GUIDE's Positive Youth Development (PYD) initiatives support Georgia communities by providing professionals with high-quality resources and training opportunities while teaching youth leadership skills necessary to impact community change. There are many ways you can engage with our PYD initiatives right now!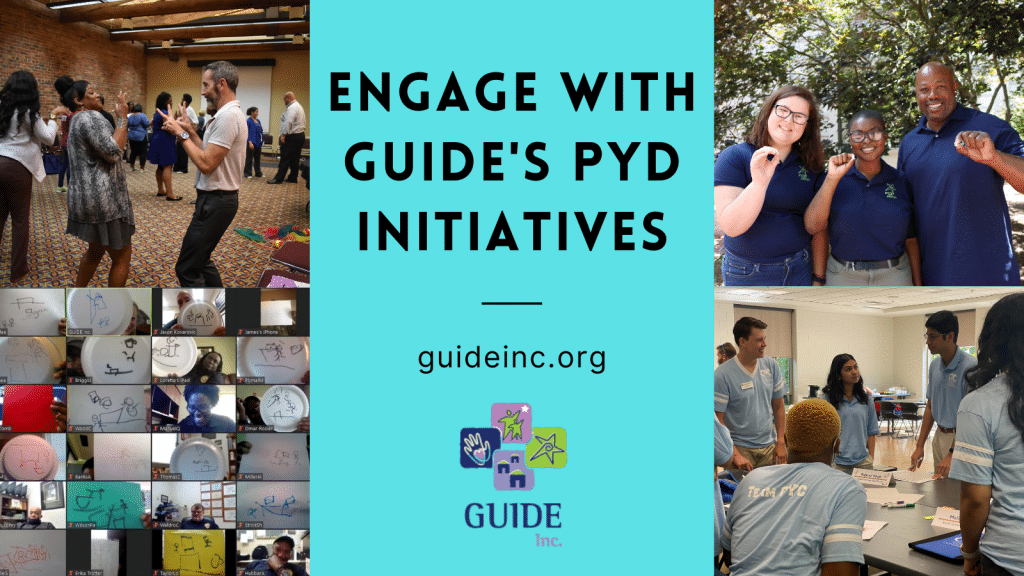 Adult Training Events
GUIDE offers year-round professional development opportunities on a variety of topics related to prevention and youth development! Our events engage the audience as active participants in their learning. Certificates of attendance are provided following each training. Registration is open for our upcoming training events happening this fall!
Georgia ASYD Initiative
The Georgia Afterschool and Youth Development (ASYD) Initiative is a collaboration between GUIDE and the Georgia Statewide Afterschool Network (GSAN) that provides a bi-annual conference and ongoing professional development opportunities and support based on the Georgia ASYD Quality Standards.
Georgia's afterschool and youth development programs provide thousands of youth – from kindergarten through high school – with safe and enriching environments in their time outside of the home and school. High-quality afterschool and youth development programs can make important contributions to young people's development and well-being. To ensure that Georgia's young people are equipped to thrive and succeed in their lives, our afterschool and youth development programs must provide environments and experiences that benefit youth socially, emotionally, and academically.
The Georgia ASYD Initiative is supported by the Georgia Division of Family and Children Services, the Georgia Department of Early Care and Learning, the Georgia Department of Education, the Georgia Department of Behavioral Health and Developmental Disabilities and the Georgia Department of Public Health.
Registration is open for our upcoming offering of the Georgia ASYD Quality Standards training. Join us September 12 in Lilburn!
Georgia Teen Institute
Georgia Teen Institute (GTI) is a youth leadership program for Youth Action Teams throughout Georgia that begins with a summer training program and continues with year-round support. Youth Action Teams attend a four-day residential camp held at Oxford College to develop leadership skills and engage in the Strategic Prevention Framework planning process through workshops, Team Meetings and team building activities. The teams work to plan and implement peer-focused prevention and community service projects.
GTI is fully staffed and peer-led by high school, college-age and adult volunteers! Each staff member is responsible for carrying out the program's goals through team building, networking and skill building sessions. The application for GTI 2024 Youth Staff, Young Adult Staff and Adult Staff will be available in November 2023. If you are interested in serving during the 2024 program and would like to be notified when applications are released, please complete our Staff Interest Form.
Custom Training Events
We offer customized in-person and virtual training on a variety of youth development and prevention topics! Whether you're looking for something tailored to the youth you serve or the adults with whom you work, we'd love for you to contract with us to provide this service.
If you have any questions, feel free to reach out to Mary Kate via email at marykate@guideinc.org.
Youth Training Events
GUIDE holds several youth training events throughout the year designed to facilitate team building, effective project planning and development of leadership skills. Many of these events are open to any Georgia youth who would like to attend. The best way to hear about upcoming events is to join our mailing list.