From Tell Your Story to #MyStoryIs…
Tell Your Story. This theme from Georgia Teen Institute 2016 resonated with youth from all across the state of Georgia this year at Oxford College. These three small words impacted lives in really big ways this summer. Youth and adults alike were given the opportunity to explore their stories and adopt new skills to share them. We believe those stories have the power to change the world.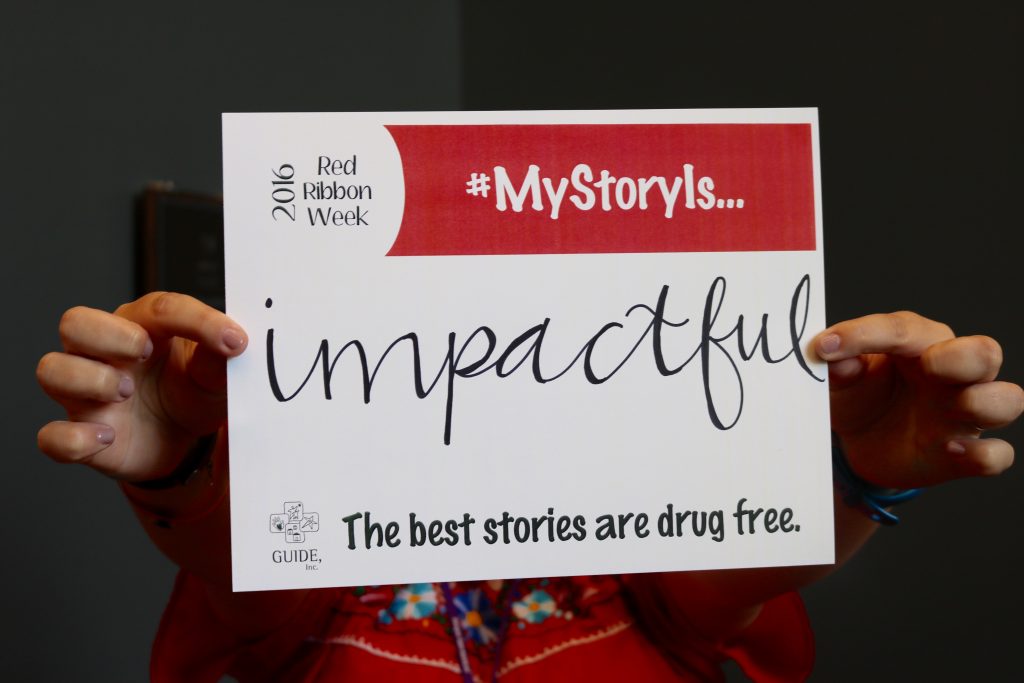 For the first time ever, GUIDE's Red Ribbon Week campaign is a derivative of GTI's theme. At GTI, participants were encouraged to tell their stories. For Red Ribbon Week, we are asking the same thing with the #MyStoryIs… campaign, but this time using one word only. With the tagline "the best stories are drug free," GUIDE is giving groups all over the state tools to implement a single campaign in order to impact Georgia with a prevention message in a way that is truly unprecedented.
Red Ribbon Week 2016 was kicked off at GTI this year with 46 Youth Action Teams representing 33 Georgia counties. Not only did we begin celebrating this significant prevention holiday, each team began this campaign project that they will implement in their home communities this fall.
The best stories are drug free.
Everyone who's been to GTI knows that General Sessions are quite possibly the most inspiring and exciting parts of the day. With all participants in the room getting ready to be motivated and energized for the day, what could possibly be a better time to kick off Red Ribbon Week 2016?
G
TI staff went the extra mile this year during General Sessions to truly show that the best stories are drug free. During one session, speakers told participants funny stories of past family trips in effort to show that great stories don't involve alcohol or drug use. Later in that session, participants came on stage to play various Minute to Win It games. From balancing multiple balloons in the air to catching ping pong balls in a basket balanced on their heads to trying to get cookies in their mouths by letting them slide off their foreheads, participants experienced the perfect way to create new memories and stories to tell their peers that are completely drug free.
Perhaps the most meaningful General Session was when staff and participants were invited to the stage to share their personal stories. Across the two weeks, over 25 youth took the stage to share important parts of themselves to their GTI family. We heard stories that included academic achievement following immigration to the United States and learning English as a second language, feeling at home after moving schools and taking the risk to join a Youth Action Team, becoming motivated to do great things after being raised by a strong single parent and traveling the country to inspire other youth after overcoming a difficult life situation. The list goes on and on. Each youth had something important to say, a story that touched lives all because they had the courage to tell it.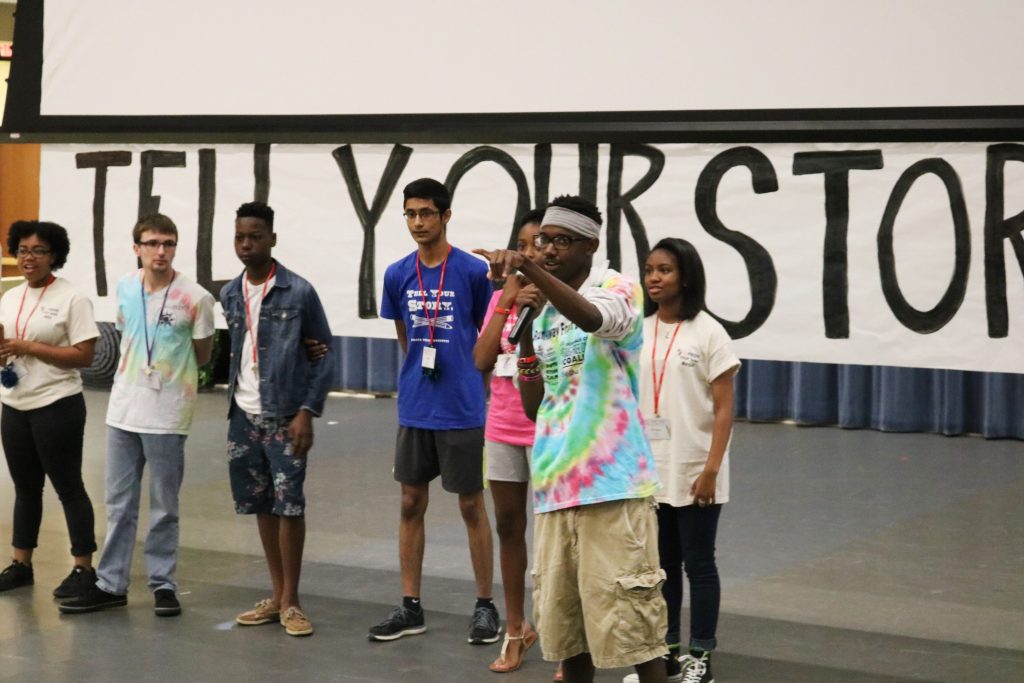 Over 300 people began the campaign at GTI.
The biggest way participants were engaged in Red Ribbon Week 2016 at GTI was by attending a mandatory workshop titled "Red Ribbon Week 2016: #MyStoryIs…" Unlike any other workshop at GTI, participants attended this session with their whole Youth Action Team in order to ensure the entire team was invested in Red Ribbon Week and on the same page with how the campaign works. This was intentional to allow teams the opportunity to not only begin strategizing about how to implement the project in their home communities, but also to allow them to begin working on the project right there during the workshop.
Throughout the course of the workshop, participants were introduced to the campaign and its importance as a project that promotes substance abuse prevention. Teams were given an abundance of materials that included photo props, various handouts, sample social media and press release messaging, poster templates, graphics and a video. They learned in detail how to use these components to implement the #MyStoryIs… campaign in their communities.
The most beneficial part of the workshop was that not only did participants walk away with new knowledge and a ton of materials to use in the campaign, but they also had a chance to begin the project in a way that allowed them to leave GTI with tangible products to use in the campaign. Each participant was guided through the process of exploring their personal stories by identifying positive qualities in themselves, their role models, past accomplishments and future goals. Following this, each person reflected on what they brainstormed to then choose one word only to complete the sentence "#MyStoryIs…" Each person then wrote their word on a photo prop template and had their photo taken. Those photos will be sent to each Youth Action Team for use in the campaign, in addition to a personalized video just like GUIDE's that incorporates their youth's names and words. That's over 300 photos and 46 videos that will go out across the state of Georgia as a result of these teams beginning their Red Ribbon Week projects at GTI!
You can join, too!
If you know or are a part of a group who needs a project to implement for Red Ribbon Week 2016, please consider checking out GUIDE's #MyStoryIs… Red Ribbon Week campaign. Be a part of what will be the biggest prevention campaign to impact Georgia.