Red Ribbon Week 2020: What's Your Vision?
Save the date! Red Ribbon Week is quickly approaching on October 23-31, 2020! Join GUIDE as we celebrate with our brand new campaign, "What's Your Vision?"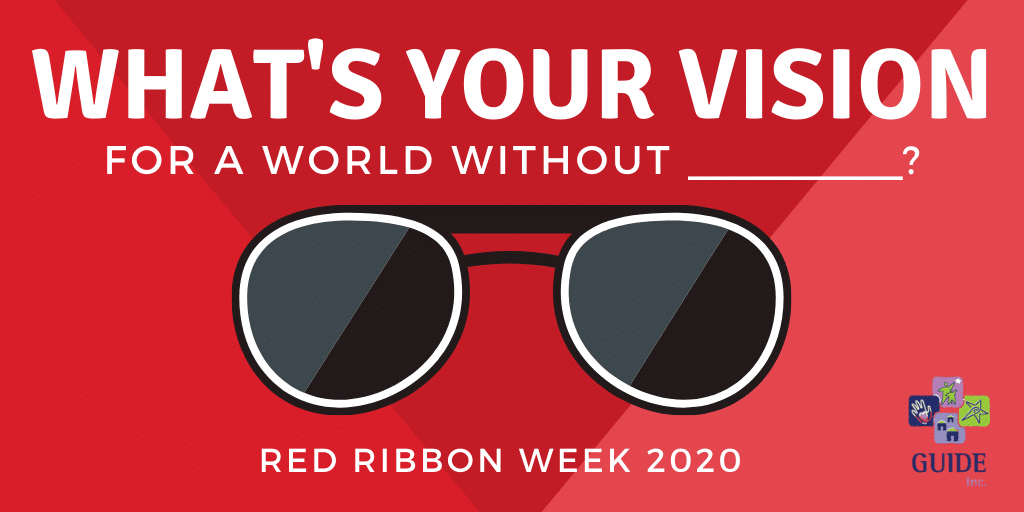 Our Campaign
This year for Red Ribbon Week, GUIDE wants our community members to envision the future that is made possible by prevention. We know that prevention efforts are important and positively impact individuals, families and communities every day. We want to hear what it means to YOU!
In celebration of Red Ribbon Week, we are asking everyone to think of an area of prevention important to you from the following list: underage drinking, vaping, prescription drug abuse or suicide. Once you have selected your topic, answer the question "What's your vision for a world without [insert prevention area/topic]?"
Participate in Our Contest
We are holding a contest to encourage participation in our Red Ribbon Week 2020 campaign! Anyone living in Georgia can enter the contest. Entries may be submitted from both individuals and groups, and there are no limits on the number of entries that can be submitted!
There are three ways to answer the question:
Video up to 3 minutes long
Writing piece up to 500 words
Visual art piece
Once you choose your preferred method of expression from the categories above, tell us your vision and send it to us (photos can be taken of the visual art piece).
Entries should be submitted by Friday, October 16, 2020.
Our independent panel of judges will choose three winners from each category. Winners will be contacted via email by Wednesday, October 21, 2020. Our winners will be announced and featured on social media (@guidegti) during Red Ribbon Week.
*In order to participate, a release form must be submitted at the time of contest entry. Click here to download our release form!
Contest Prizes
The three winners chosen from each category will earn Amazon gift cards totaling $75 (3rd place), $100 (2nd place) and $250 (1st place).
---
Red Ribbon Week Project Ideas
Now is the time to begin planning your Youth Action Team's or other youth-serving group's Red Ribbon Week project! Looking for more resources? Here is a great list of prevention project ideas: Red Ribbon Week Roundup: Project Ideas to Celebrate Being Drug Free.
If you have any questions about Red Ribbon Week or GUIDE's 2020 campaign, please feel free to contact Michael Davis at michael@guideinc.org.
Learn More About the National Red Ribbon Week Campaign
According to the National Family Partnership, the sponsor of the National Red Ribbon Campaign, "the Red Ribbon Campaign is the oldest and largest drug prevention program in the nation, reaching millions of young people during Red Ribbon Week… It is an ideal way for people and communities to unite and take a visible stand against drugs… The Red Ribbon serves as a catalyst to mobilize communities to educate youth and encourage participation in drug prevention activities."
"Be Happy. Be Brave. Be Drug Free. This year's Red Ribbon Week theme will help amplify the campaign's mission to encourage children, families and communities to live healthy, happy and drug-free lives. It also serves as a reminder that we are all empowered with shaping the communities around us through positivity, bravery and strength."