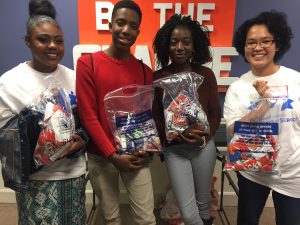 Wondering what goodies you can give away at your local Trunk or Treat or from your door on Halloween? We've got a great idea for you. This project would be a great addition to your Red Ribbon Week festivities or to add onto a Fall Festival or Health Fair, too.
For this project, you'll put together small goody bags with candy or other items and attach tags with messages associated with the goodies in the bags. Candy should be individually wrapped. Avoid chocolates because they melt. Small clear or colorful cellophane bags can be purchased with seasonal themes and cards can be tied to ribbon to close the bags. They can also be assembled by simply using sandwich baggies with the cards inside or taped to the outside.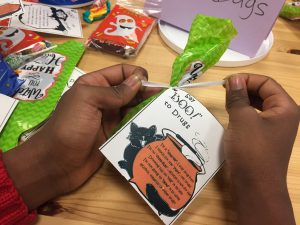 Here are some suggestions for what you could include in these, "Say Boo to Drugs" bags. 
Bags contain: Starbursts, Tootsie Rolls, Dum Dum lollipops, Smarties and a Blow Pop.
The attached cards with Halloween themes read:
I'm a "smartie" – I stay drug-free!
I reach for the "stars" – not drugs!
I'm no "dum-dum"…alcohol is not for me!
Drinking has no "roll" in my life!
I'm not going to "blow" it by using alcohol, tobacco or other drugs!
Use your imagination to come up with more ideas using small items or other candies.
Here are some other ideas:
Candy corn (Being drug free isn't "corny")
Bubble gum (I chew "gum," not tobacco)
Riesen (My future is the "riesen" I'm drug-free)
Peanut M&Ms (You'd have to be "nuts" to use drugs)
Life Savers (Be a "life saver" – help your friends stay drug free)
Small high bounce ball (I can "bounce" back from problems without drinking)
If you want a free printable of these goody bag tags, click here!
If you use our printables or create your own, let us know! We'd love to know where and how these are being distributed and if you've got other ideas about what candies or toys you could include with drug-free messages!