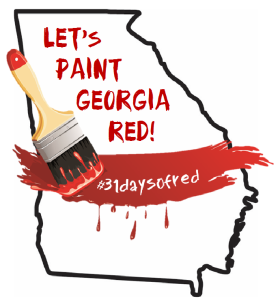 Save the date! Red Ribbon Week is right around the corner, from October 23-31. Year after year we celebrate this special campaign to share with our peers and community the significance of being drug free. The National Red Ribbon Campaign serves as a catalyst to mobilize communities to educate youth and encourage participation in drug prevention activities. We at GUIDE are REALLY excited for Red Ribbon Week this year, and we hope you will show your support of a drug-free lifestyle and join in on the fun activities we have planned.
In 2014, GUIDE plans to celebrate Red Ribbon Week all month long. For the whole month of October, we are celebrating by implementing our brand new campaign, Paint Georgia Red. The premise of the campaign is to get as many people as possible to represent their communities across the state of Georgia and tell us why they choose to wear red and be drug free. Using #31daysofred, we are asking YOU to post a photo of yourself on social media (Instagram, Twitter or Facebook) wearing red somewhere in your local community. You should tell us your name, where you are located and why you choose to be drug free. Please tag us (@GUIDEgti on Twitter and Instagtam and @GUIDE, Inc. on Facebook) in your post and don't forget to use #31daysofred — that's the only way to ensure we will see your photos! If you aren't on social media and still want to participate, please email your photo and description to socialmedia@GUIDEinc.org.
By the end of the campaign, we hope to have painted Georgia red by having as many counties and cities of Georgia represented with their drug-free support.
Here are some examples of what we are looking for: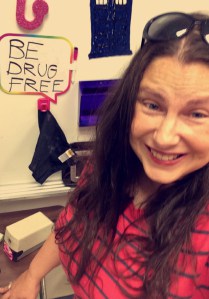 Mandee Jablonski at Marietta Middle School in Marietta, GA – I wear red because I want my students to be the best they can be and always be drug free! #31daysofred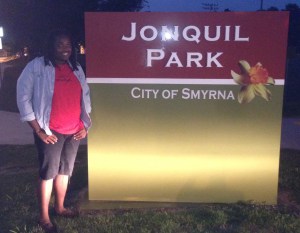 Elliott Walker in Smyrna, GA (Cobb County) – I wear red because I have so many lives to influence inside the classroom. #31daysofred
Wait! That's not all! If you participate and provide all of the required information, you will be entered to win a pair of red Beats by Dre headphones AND $250 for your school, Youth Action Team or other organization that supports prevention. The winner will be chosen via a random drawing on Monday, November 3, 2014. Each complete entry will earn you a chance to win! We are accepting entries October 1-31. Scout out your locations, get your red gear together and start thinking about why you're drug free. Have fun!
If you have any questions about the Paint Georgia Red campaign or the contest, please email us at socialmedia@GUIDEinc.org.
Want to join GUIDE for other Red Ribbon Week activities? We will be hosting Walk the Talk events at parks around Gwinnett County all month long. In addition to seeing us and getting some great exercise, we will talk about various prevention-related topics in honor of Red Ribbon Week. Check out our schedule here. We hope to see you there!