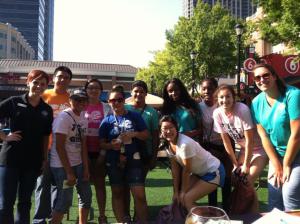 The GUIDE Youth Advisory Board (YAB) is comprised of youth from across Gwinnett County that commit to making a difference in their community. YAB members, through monthly meetings and community events, develop and practice key leadership skills such as public speaking, group management, networking, decision-making, organization and time management. The 2013-2014 YAB includes Josselyn Garcia- President, Micheline Amisi- Vice President, Akua Obeng-Akrofi- Secretary, Angela Luu, Charlene Marsh, Christine Edih, Courtney Serra, Gaby Guzman-Simon, Joy Choi, Marilyn Carias, Maya Carter, Nathan Carter, Odemi Pessu, Rachel Topper and Vincent Morales. This group of 15 high school students has had a busy year.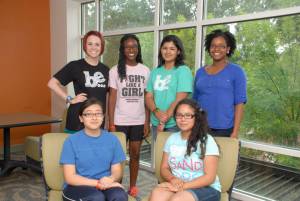 During June 2013, Maya, Charlene, Angela and Marilyn worked with their facilitator, Josselyn, and Adult Advisor, Mary Kate at Georgia Teen Institute (GTI). While at GTI, the team completed the Strategic Prevention Framework to identify a need to be address in the community and then planned a project to meet that need. The team identified a need for more fun activities for youth to do on weekends that were drug- and alcohol-free. Because of this need, the team began planning an event to be held during the school year to address the lack of activities.  
The YAB met for the first time on August 15th to kick off the year. They elected two representatives, Josselyn Garcia and Marilyn Carias, to serve on the GUIDE Board of Directors. Both representatives attended all Board of Directors during the year and gave valuable input from a youth leader perspective.
The team who attended GTI shared the plan they had created with the other YAB members, and everyone started to generate a plan for the upcoming year. Over the next several months, YAB members prepared for the event they called "Fresh Start Town Hall Meeting."  They planned a workshop, contacted sponsors, prepared materials, assisted with recruiting participants and more. The event was held in January at the J.M. Tull Family YMCA, and it was a huge success. Event participants greatly enjoyed the keynote speaker, Wes Bender, workshops facilitated by YAB members and a Gwinnett County Police Officer, Zumba and other YMCA activities and a skit that was put on by YAB members about starting the new year with a fresh start. Overall, the event was an accomplishment for each YAB member because of the hard work they put into planning it.
Another major accomplishment was the success of the YAB Red Ribbon Week (RRW) Campaign in October. All members helped create Boo Bags with prevention messages to distribute to their classmates. They also participated in GUIDE's social media #BeRed campaign. Members from Norcross High School (NHS) developed a lesson plan about underage drinking for the Freshman Advisement Class. They also had a Mothers Against Drunk Driving (MADD) representative make presentations in health classes. The SADD group they helped start at NHS sponsored student pledges not to drink alcohol under 21 on a large banner. Members from Archer and Grayson High Schools also conducted RRW activities, reaching 1340 and 3230 students respectively. GUIDE was awarded the Overall Statewide RRW Award, and the GUIDE YAB was a major part of that happening.
During each monthly YAB meeting, members also completed various activities for the Alcohol Prevention Project. Using the Communities Mobilizing for Change on Alcohol (CMCA) strategy intent, the YAB worked diligently to reduce underage drinking in Gwinnett. YAB members participated in several activities, including the Sticker Shock campaign, an Environmental Scan, Most of Us Social Norms activities and many more. They also provided feedback on prevention messages and how well they would relate to youth. Also during the monthly meetings, YAB members completed a marijuana prevention activity. These included completing an Environmental Scan, brainstorming prevention messages and educating members and their peers on HB 885 – the recent marijuana bill that was presented to Georgia legislation.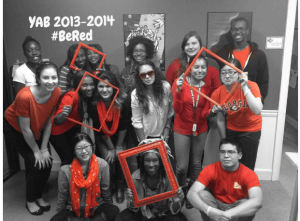 Outside of the monthly meetings, YAB members were also hard at work in the community. They participated in various events such as the Walk Like MADD event, the Public Safety Fall Festival and the Gwinnett Great Days of Service. At each event they distributed Save Brains packets and collected adult signatures to not provided alcohol to those under 21. Josselyn was featured on People Helping People TV show for Alcohol Awareness Month. Each YAB member was required to complete 20 hours of community service, and they all did so through various events throughout the year.
Overall, it has been incredible year for our Youth Advisory Board, and we appreciate all their hard work and dedication to making a positive difference in our community.