For the 26th year in a row, GUIDE, Inc. is in the process of planning for the Georgia Teen Institute summer leadership program. The Georgia Teen Institute (GTI) is an inspiring, motivational and meaningful leadership training program for middle and high school students with a focus on teaching youth-adult teams how to use the Strategic Prevention Framework. Teams of youth from all over the state of Georgia come and learn how to plan and implement projects in their home communities related to alcohol, tobacco and other drug prevention, community engagement and other pertinent issues. GTI is a dynamic, fun and innovative way for middle and high school students and adult advisors to learn new skills, meet new people and become empowered to create change in their communities and schools.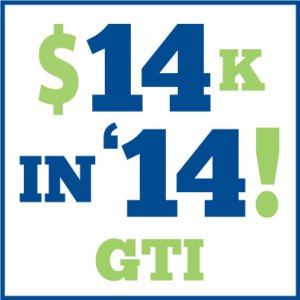 GTI is run by GUIDE, Inc., a 501(c)(3) non-profit and, in 2014, will be staffed by 45 high school and college age youth and more than 50 volunteers. The cost for one of the 45 staff – who have already completed a three day training, will attend another three day training and then staff eight days of GTI – is approximately $650. When we shared this cost with our high school and college staff in March, they decided to set a really ambitious fundraising goal to help cover their costs. This group, in addition to studying their facilitator's GUIDEs, preparing warm fuzzies and doing an assortment of other things to prepare to serve as staff members, decided to set their 2014 staff fundraising goal at $14,135!
We need your help to make sure that this incredible goal can be met. Every single bit helps and we hope that little by little our 2014 staff will inch toward their goal. We can assure you that 100% of your donation goes to support the work that these youth and young adults will do this summer. The funds we raise through this campaign go to pay for meals during our staff trainings that can't be covered by our grant funding, our onsite expenses for staying at Oxford College for two weeks and so much more.
Donating is REALLY easy — simply CLICK RIGHT HERE to securely donate online. It will give you the option to do a one-time donation or have the amount automatically deducted monthly. Simply designate "GTI" when asked, and if you know a specific staff member for whom you want to donate, add their name, too. All donations are tax deductible to the fullest extent of the law and are GREATLY appreciated. If you'd rather write a check, mail it to GUIDE, Inc., PO Box 1922, Lawrenceville, GA 30046, Attn. GTI. 
Your support of the work that GUIDE and the Georgia Teen Institutes are doing this summer really does make a difference. THANK YOU!