GUIDE, Inc. Youth Advisory Board (YAB), made up of 15 high school students in Gwinnett County, seeks to create positive community change. Five of our YAB members attended a leadership program this past summer, Georgia Teen Institute. While they were at camp, the group utilized the Strategic Prevention Framework (SPF) to create an Action Plan in order to facilitate said change. Their Action Plan included a town hall meeting for youth dedicated to providing an alcohol-, tobacco- and other drug-free activity, illustrating that students can have a lot of fun living a substance-free life.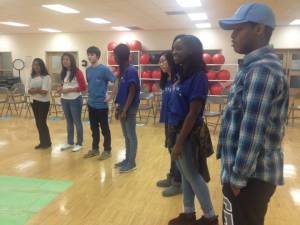 When the YAB held their first meeting of the year in August 2013, members reviewed the Action Plan and the SPF process began. Because of the great detailed work that took place at Georgia Teen Institute, the YAB jumped right back into the planning process. Members worked hard to plan the event by seeking community sponsors, recruiting for high school student leaders to attend and addressing event logistics. YAB chose the title, "Fresh Start Town Hall Meeting" to demonstrate the ability teens have to start over with new perspectives and behaviors. The Fresh Start Town Hall Meeting took place on Saturday, January 11, 2014 from 6:30 – 11:30 pm.
YAB members were very appreciative of the support of J.M. Tull-Gwinnett Family YMCA. YAB partnered with the YMCA, who provided the space for the Fresh Start Town Hall Meeting. The facility was the perfect location for the event! The YMCA also provided the keynote speaker, Wes Bender. He was a huge hit with all of the participants and shared many "tools for their toolboxes" and lots of laughter!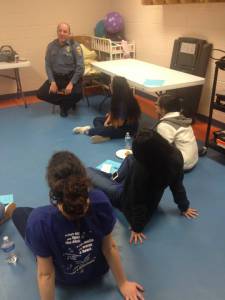 The workshops at Fresh Start were both informational and engaging. Officer Rooks from the Gwinnett County Police Department facilitated a workshop on how important decision making is in a young person's life. He also provided a great deal of laughter, along with lots of important information on the dangers of underage drinking and drug use. Two YAB members, Maya and Charlene, facilitated a team building workshop. They did a fantastic job leading the group in leadership activities while focusing on the Fresh Start theme. They shared significant knowledge with the participants, encouraging them that a new year is a great time to turn over a new leaf. During free time, participants enjoyed using the YMCA facilities including racquetball, Zumba and the Teen Center.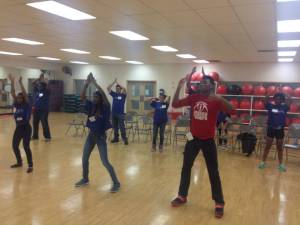 The event wrapped up with a skit written and performed by YAB members. During the skit, YAB provided reasons why youth should make positive choices and how they can share this information with their peers in a fun, easy to understand way. Much like Georgia Teen Institute, YAB members provided door prizes and energizers, too!
The Fresh Start Town Hall Meeting was an excellent way for YAB members to learn more about the SPF and utilize its steps to effectively plan a program. To wrap up the SPF process, YAB members collected evaluations and analyzed results. They also met to discuss the event and have already started to plan for next year!