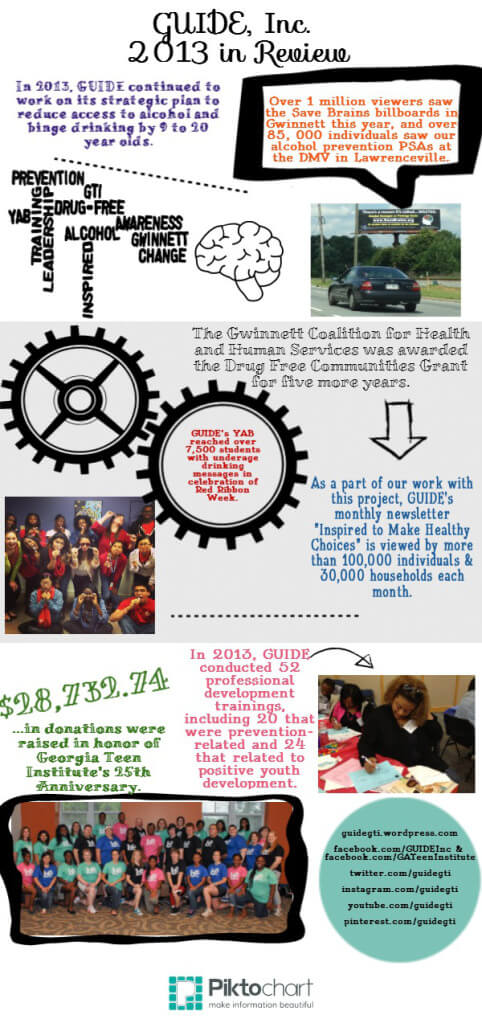 This past year was busy, challenging and incredibly rewarding for the GUIDE Staff as we took on new projects, moved forward with strategic planning and expanded our reach throughout the state. Our staff continued to be recognized for their professionalism and talents, which explains why we're often in high demand. Every one of our initiatives made a difference in some way, and we are pleased to share our 2013 accomplishments with you.
Prevention
Through our Alcohol Prevention Project (APP) funded by the Department of Behavioral Health and Developmental Disabilities, we continued to work through the Strategic Prevention Framework on our goal to reduce access to alcohol and binge drinking by 9 to 20 year-olds. Our work included the development of a Capacity Building Plan addressing community readiness and sustainability, a Strategic Plan identifying evidence-based strategies and activities to address local issues and an Implementation plan that outlines action steps and timelines. We ended the year with attention focused on the Evaluation Plan that addresses both process and outcomes.
GUIDE's strategies in Gwinnett included reducing commercial access to alcohol through compliance checks, warning messages and increased penalties and reducing social access by raising awareness about consequences for providing alcohol to minors and improving social host liability laws or ordinances. A compliance check crackdown in the City of Lilburn at the end of the year resulted in several package stores and a restaurant receiving severe sanctions for selling to minors and garnered quite a bit of press attention.
Our public awareness campaigns continued throughout 2013. The biggest one, our Save Brains campaign, expanded to include new print materials, recurring Public Service Announcements on the Gwinnett County cable channel and at the Department of Motor Vehicles in Lawrenceville and utilization of social media platforms to spread the messages. The campaign's display also made several stops around the state, including at the Gwinnett Justice and Administration Center and the Georgia School of Addiction Studies. Overall, our Save Brains messages reached over 1 million people in Gwinnett and beyond in 2013!
Additionally, we continued to collaborate with the local Drug Free Communities (DFC) coalition, the Gwinnett Coalition for Health and Human Services, by writing grants, providing training and taking the lead on several prevention strategies. In 2013, the Coalition was awarded the DFC grant for five more years. The focus is on underage drinking, marijuana and prescription drugs. GUIDE has been involved in these strategies through, among other things, our APP work, the Youth Advisory Board's creation of two PSAs being shown in several venues and the promotion of the Prescription Drug Take Back program. As a part of our DFC work, GUIDE also publishes Inspired to Make Healthy Choices, a monthly newsletter about various health and wellness issues that is viewed by more than 100,000 individuals and 30,000 households every month.
Youth Leadership and Engagement
GUIDE's work with youth leaders in Gwinnett and across the state continues to be some of the most successful and rewarding work that we are able to do. In 2013, our biggest and longest running program celebrated a huge anniversary and meeting a huge fundraising goal. Since 1989, Georgia Teen Institute has reached thousands of youth and adults from around the state. The summer of 2013 marked our 25th Anniversary of this popular program and to honor those years, our Youth and Young Adult Staff set a fundraising goal of $25,000. Though it seemed intimidating at first, we were able to, along with our 45 volunteer staff members, raise more than $28,000 by the end of the year, making this our largest fundraising campaign to date! The funds raised supported the 350 youth and adults who attended one of the two sessions of GTI 2013. These members of 43 youth action teams from across Georgia planned and implemented 85 prevention projects and 25 community service projects that involved over 50,000 youth and reached audiences of over 245,000 around Georgia and across the United States.
One of those Youth Action Teams is GUIDE's very own Youth Advisory Board (YAB), who had a busy and successful 2013. In addition to the PSAs on underage drinking and marijuana that they created, our YAB members' opinions and ideas were sought by  HLN's Raising America, CNN and GenRx. The GenRx initiative used the YAB as a focus group about prescription drug use and several YAB members are featured on their website. For Red Ribbon Week, the YAB members conducted various campaigns at their own schools and participated in GUIDE's "Be Red" campaign, reaching more than 7,500 students with messages regarding the effects of underage drinking. One of our YAB members, Josselyn Garcia, was selected as one of nine youth for MADD's National Teen Influencer Group.
Training and Capacity Building
GUIDE has long been the recognized leader in professional development and youth leadership training in Georgia, and 2013 was no exception.
We started 2013 with the largest adult-focused event GUIDE has ever conducted, the Georgia Afterschool and Youth Development Conference. This event, funded by the Governor's Office for Children and Families, the Georgia Department of Education and the Georgia Department of Human Services, took place in Athens and reached over 700 afterschool and youth development professionals in attendance for the three day event.
Throughout the remainder of the year, we were awarded contracts for training workshops from the Governor's Office for Children and Families, the Georgia Department of Human Services and several other small non-profits, prevention agencies and others interested in our youth development and prevention work. With these partnerships, we were able to offer 52 professional development training events that reached over 1825 adults. Twenty of our 2013 events were prevention focused and, as the only provider to conduct the Core Courses required to apply for prevention credentials in Georgia, GUIDE played a big role in preparing the 25+ prevention professionals who recently received their credentials. Our twelve youth leadership training events included a leadership series with the Lilburn Middle School Peer Leaders and, in total, reached approximately 250 youth.
In the last quarter of 2013, GUIDE received contracts to plan the 2nd Annual Afterschool and Youth Development Conference scheduled for October 2014 and to plan the first Teens R 4 Me Conference for Department of Human Services, Division of Family and Children Services workers, volunteers and teens in foster care scheduled for March 2014.
These highlights of our work in 2013 are merely the tip of the iceberg of projects, campaigns and events that GUIDE staff implemented and maintained this year. We couldn't have celebrated the amazing success of 2013 without our dedicated board members, volunteers, supporters and friends and look forward to what 2014 holds!