Join us for upcoming webinars!
We are excited to announce our upcoming professional development opportunities! Current offerings are 100% virtual.
These webinars will engage the audience as active participants in their learning. Certificates of attendance documenting hours will be provided after the webinar via email upon completion of the course evaluation.
For the training options below, participants will receive an automatic confirmation upon registering and then a link to sign in to the Zoom webinar on the morning of the session. Registration is for one person only, and we respectfully request that the link is not shared with anyone. 
Registration closes at 5 pm on the day before each scheduled training. Payment is accepted by credit card or PayPal only.
Plan ahead for all of our trainings this year by viewing our 2021 Training Event Schedule!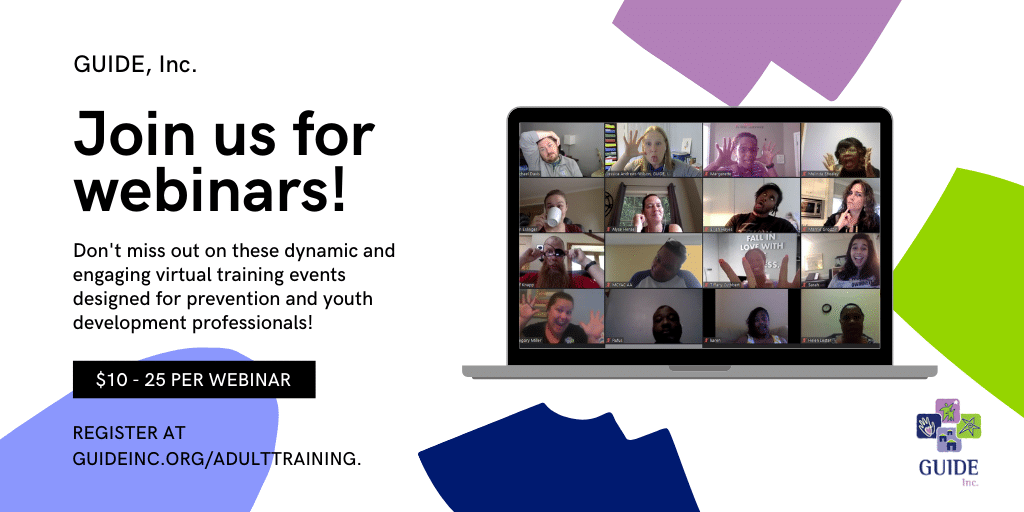 Looking for the PCCG Core Courses? Registration for those training events is available here.
---
Team Building: Virtually & In-Person
October 19, 3 – 5 pm
Cost: $25
Just because we're all working from our homes doesn't mean we can't connect, build comradery and get to know each other better! Join us for this virtually interactive webinar that will provide you with tips and tricks on how to engage your team, whether it's youth or adults – all from the comfort of your own home!
Facilitator: Jessica Andrews-Wilson
---
Youth Voice
October 21, 1 – 3 pm
Cost: $25
Does your organization provide activities or services for youth? Want a better understanding on how to incorporate their thoughts and suggestions to make programming even better? Join us for this hands-on, interactive webinar that will provide participants with the knowledge and understanding of why youth voice is not only important but critical in order for organizations to thrive.
Facilitator: Jessica Andrews-Wilson
Cancellation/Refund Policy
In order to receive a refund or credit that can be applied for a future training event, cancellations must be received no later than two business days prior to the scheduled webinar. Refunds or credits are not available after that time. Credits expire on the last day of the calendar year in which they were issued.