Join us for upcoming webinars!
We are excited to announce our upcoming professional development opportunities!
These webinars will engage the audience as active participants in their learning. Certificates of attendance documenting hours will be provided after the webinar via email upon completion of the course evaluation.
For the training options below, participants will receive an automatic confirmation upon registering and then a link to sign in to the Zoom webinar on the morning of the session. Registration is for one person only, and we respectfully request that the link is not shared with anyone. 
Registration closes at 5 pm on the day before each scheduled training. Payment is accepted by credit card or PayPal only.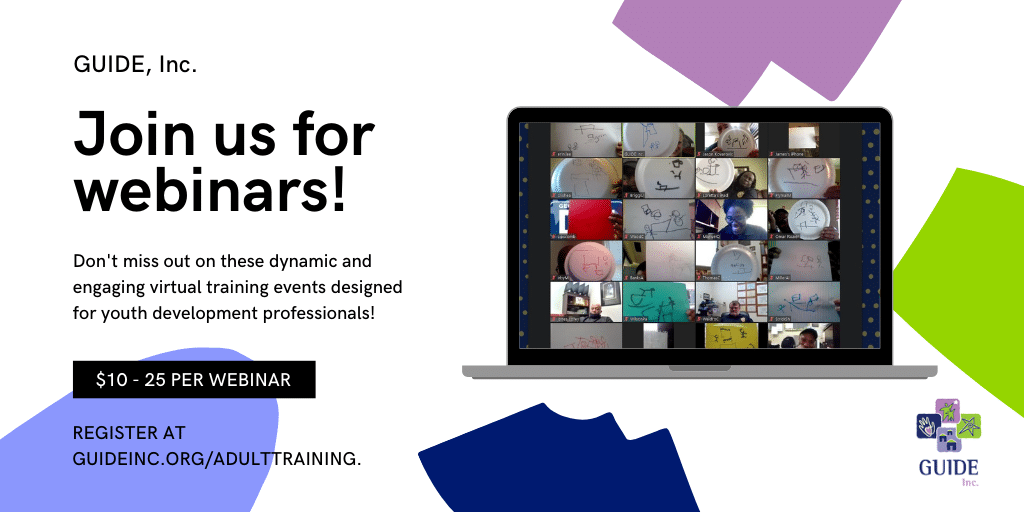 Self-Care 2.0: New Year, New Me
January 26, 10 am – 12 pm
Cost: $25
We've all said it, right? Thank goodness 2020 is over, and we can start anew! But the chaos didn't just stop because we entered a new year. In order for us to thrive and live our best lives, we MUST take care of ourselves… each and every single day. Join us for this interactive webinar to explore even more ways to fully take care of ourselves – mentally, physically and emotionally. You don't want to miss this!
Facilitator: Mary Kate Chapman
---
Why & How to Incorporate Reflection in Every Session
February 11, 3 – 5 pm
Cost: $25
In youth development programs…and programs of all sorts, reflection can maximize learning and help concepts to stick. In this highly interactive webinar, participants will take a close look at the value of reflection, how and why to use it well and how to take reflective practices from basic to transformative for the young people you serve.
Facilitator: Jessica Andrews-Wilson
---
Understanding Trauma Through ACEs Science
February 18, 1 – 3 pm
Cost: $10
Utilizing the landmark CDC/Kaiser Permanente study from the 1990s as well as the recent work of trailblazers like Nadine Burke-Harris, this course will take an in-depth look at the science of Adverse Childhood Experiences (ACES). To better understand the stigma and misconceptions surrounding trauma, this workshop will take a look at the long history of trauma and trauma treatment. Participants will then explore how the physiological and psychological effects of ACES on the body, brain and biology affect the long-term health outcomes of people exposed to childhood trauma. Finally, participants will learn the common signs of trauma in children and adults and have a chance to examine their own personal assumptions about trauma and trauma survivors.
Facilitators: Anna Blount & Amy Hunnewell, Team Up Mentoring
This training is funded by the Georgia Division of Family and Children Services (DFCS).
---
Community Level Change Strategies
March 9, 10 am – 12 pm
Cost: $25
Community Level Change Strategies (CLCS) can be used by any individual, group or organization to create change in their community. Participants are introduced to each of the seven strategies and provided examples of community level implementation. Participants will have the opportunity to experience a project simulation during the webinar to increase knowledge and understanding.
Facilitator: TBD
---
Being a Resilient Leader
March 23, 1 – 3 pm
Cost: $10
Resilient teams unite toward a common goal, and work together to maximize the contributions of each member. They solve problems effectively and they innovate. Resilient teams are invincible. They can respond to change and disruption, without devolving into chaos or conflict. Discover 3 steps and 3 tools to build strong and resilient teams.
Facilitator: Linnea Miller
This training is funded by the Georgia Division of Family and Children Services (DFCS).
---
Goal Setting: Who, What, When, Why & How
April 1, 1 – 3 pm
Cost: $10
When we consider our values and ensure that they align with our goals, we are more likely to commit to a goal process, feel that our efforts are meaningful and persist through short-term sacrifices in order to gain long-term rewards. In this webinar, you'll have a chance to identify your core values, set a goal that is important to you and learn about various steps to achieve your goal now and in the future. We'll explore these concepts through interactive activities, video, discussion, collaboration and handouts. You'll leave feeling energized, empowered, ready to take action on a personal and/or professional goal process.
Facilitator:Abby Keenan, Intrepid Performance Consulting, LLC.
This training is funded by the Georgia Division of Family and Children Services (DFCS).