The Prevention Credentialing Consortium of Georgia (PCCG) is a 501(c)6 organization with committees covering credentialing, recertification, training, public relations, resource development and prevention ethics. PCCG works to advance the prevention field by promoting credentialing standards of excellence. To fulfill one of the requirements to become a Certified Preventionist in the state of Georgia, applicants must attend all four core courses (Fundamentals of Prevention, Ethics in the Prevention Field, Cultural Competency for the Prevention Professional and Communication Skills for the Prevention Professional). GUIDE provides all PCCG core course trainings at a low cost three times a year. To learn more about requirements for credentialing, click here.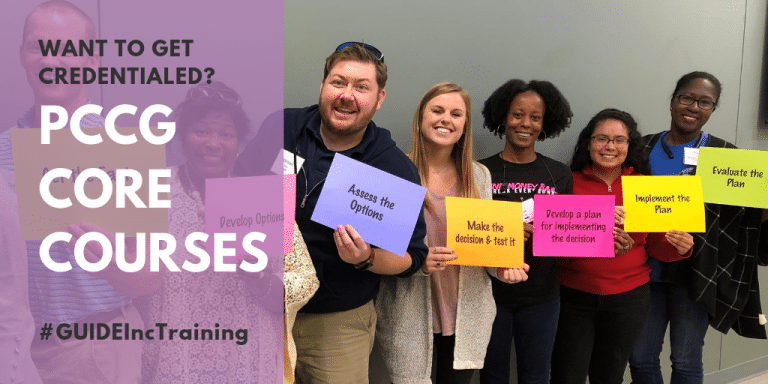 Registration is not currently open for any upcoming prevention trainings. If you are interested in a customized prevention training, please email our Associate Executive Director, Mary Kate Chapman, at marykate@guideinc.org.
Save the Dates!
Mark your calendar for our next offering of prevention trainings! We will be offering all four of the PCCG Core Courses virtually in August 2020!
Stay tuned for additional details and registration information!