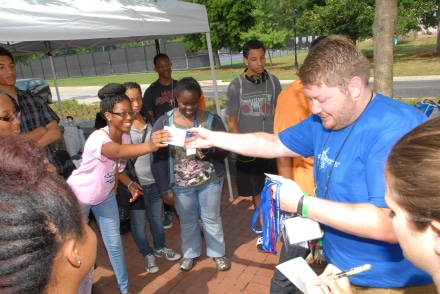 Volunteering and community engagement are important parts of positive youth development and substance abuse prevention. GUIDE encourages community service by promoting volunteer opportunities within Gwinnett County and metro Atlanta and by accepting youth and adult volunteers for certain programs and events.
We welcome volunteers age 18 and older for a variety of events and experiences. Most volunteer opportunities are on weekends or during the summer. Volunteer opportunities range from clerical help including materials preparation, photocopying and filing to conference and event staff including supervision, group facilitation and set-up/clean-up duties.
If you are interested in volunteering with GUIDE, you will need to fill out GUIDE's volunteer application to begin the process. Upon receipt of this application, we will contact you to discuss your interest in GUIDE and inform you of volunteer activities available.
If you are looking for volunteer opportunities on a more regular basis, need community service hours or can exclusively volunteer during the business day, please visit our Volunteer Opportunities page for other organizations that may be able to provide you with volunteer hours.
You can also download the application here. Volunteer Applications must be emailed to info@guideinc.org. You can also apply online below!
Volunteer Application