The Knock Out Campaign is a way to reach others by going door-to-door. It can be used as an opportunity to give important information to adults who answer the doors at local homes. Campaign messaging can vary depending on the community's needs.
Target Audience
This project engages middle and high school aged youth and adults as the participants, as well as reaches adults in the community.
Time
This project would be good for Halloween (people are already knocking on doors!), Red Ribbon Week, Alcohol Awareness Month, prior to teen events like prom or graduation or any other time of year!
Planning: 3-4 weeks
Printing: 2-4 weeks
Implementation: 1 day (unless you want to do it multiple days)
Cost
Costs associated with this project are minimal:
Depending on your campaign, you could use materials that are already printed and available for free. Otherwise, creating and printing materials will be necessary costs.
Consider small plastic bags or paper door hangers to leave materials at the homes.
Optional: Snacks/meal and drinks for before or after the event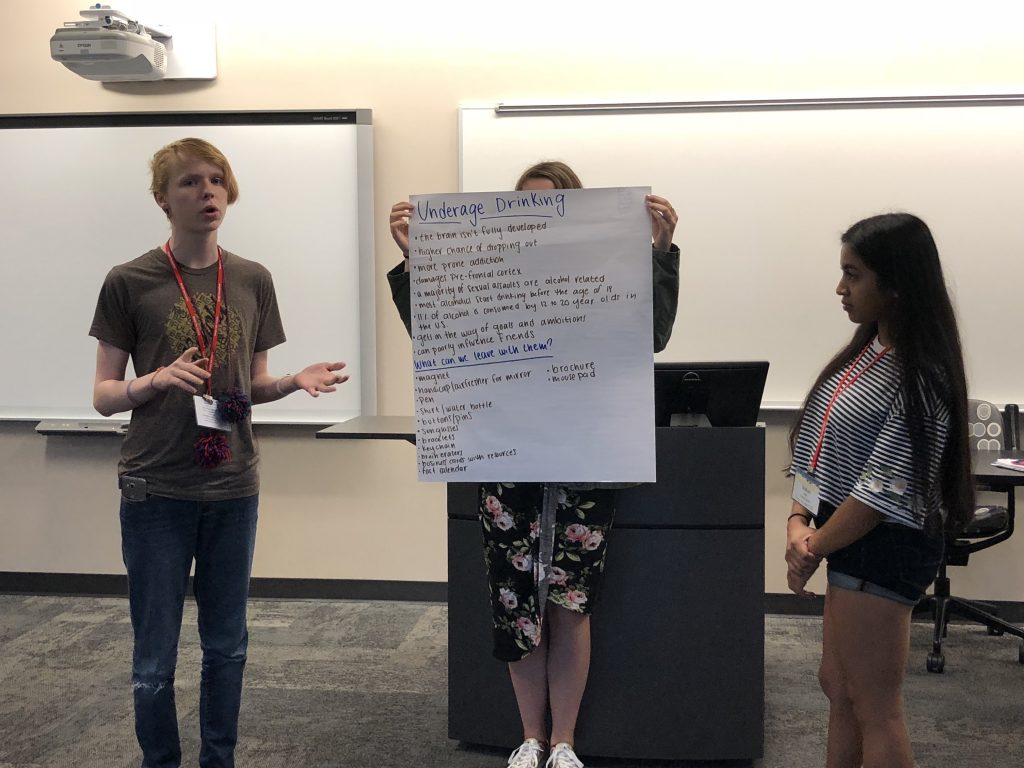 Planning Steps
Determine messaging using the "Knock Out" phrase (i.e. "Knock Out Opioid Abuse," "Knock Out Underage Drinking" or "Knock Out Bullying") and images for your campaign. Print door hangers, cards, brochures or other collateral that can be used.
Recruit youth volunteers and adult chaperones. If necessary, gather permission slips.
Determine a date and time. Be sure to consider holidays (both federal and those of community members, if different), the time the sun sets and other local factors that may impact the best day and time to conduct this project. Consider Halloween since people already know that youth will be knocking on their doors – but don't feel tied to this date if you want to do it on a different date.
Determine what neighborhoods you want to target. Focus on the neighborhoods where your team members and volunteers live.
Create a plan of who will go to what neighborhoods/streets, including at least 1 adult and 2 youth to each.
Create your informational packets including all campaign materials. Be ready to hand it out and/or leave it hanging on their door.
Practice your speech with each other. Remember to include an introduction (of yourself and your team), why you're going door-to-door, what the issue means to you and the action that you want them to take. Consider having a pledge form they could sign, a magnet they could display, etc. Leave your campaign materials with them when you go. Above all, be polite! Thank them for their time before departing.
Helpful Hint
Sometimes, those answering the door will have question about the message or your campaign. Be ready to answer questions by doing your research ahead of time.
Implementation Steps 
Meet with all volunteers at least an hour before you want to start knocking on doors to have snacks or a meal, make sure all materials are ready and to practice what to say.
Distribute maps, materials and water for each volunteer. Make sure all volunteers know when to be back at your starting point to wrap up.
Hit the neighborhoods and start knocking!
Meet back up with your team at the designated time to share successes, challenges, return materials and document evaluation information.
Celebrate a successful project!
Evaluation
To evaluate the project, track the number of volunteers who participated, number of houses hit, materials distributed, pledges signed or other relevant project data. Ask volunteers for their feelings about the event. Did they have fun? What was the response from those who opened the door? Share any anecdotal information about the project's impact.
Modifications & Ideas
If you don't want to go door-to-door, consider what you could hang on doors of classrooms in schools or other places in your community you could "knock" that would be relevant to your messaging.
Consider partnering with neighborhood associations so they can tell residents you'll be stopping by ahead of time.
Take lots of photos and videos! Post on social media, spreading your message even further.
For more information about the Door Knocking Campaign, please contact Michael Davis at michael@guideinc.org.