In 2011, GUIDE was selected as one of 41 statewide providers to participate in the Georgia Alcohol Prevention Project (APP). Locally, GUIDE applied the Strategic Prevention Framework to focus on the goal of reducing access to alcohol and binge drinking among 9- to 20-year-olds. The focus area of this project was South Gwinnett County in the following zip codes: Grayson-30017, Lawrenceville-30044, Lilburn-30047 and Snellville-30078.
To work toward our goal, we focused on retail availability, social availability and positive social norms.
Retail Availability
Retail availability refers to alcohol being sold to anyone under age 21.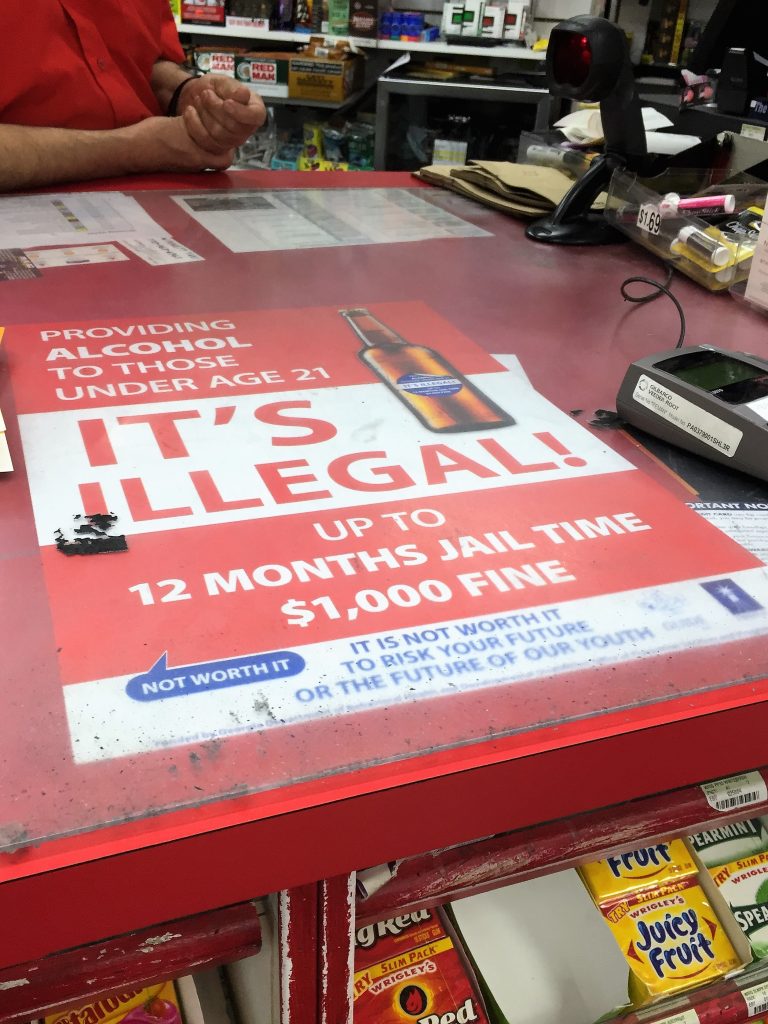 We addressed this with the following strategies: conducting compliance checks; distribution of warning signs (posters and glass clings) and information about checking identification to alcohol establishments; strengthening administrative penalties; advocating for mandatory handler's permits and training for all employees who serve and/or handle alcohol; and advocating for an increase in the state's alcohol excise tax.
Notable Successes:
Administrative penalties and enforcement have increased in unincorporated Gwinnett County.
The Alcohol Awareness Training is now available on the Gwinnett County website for all retailers in unincorporated Gwinnett County, and it must be downloaded by retailers prior to renewing their annual alcohol license.
Compliance checks results improved in unincorporated Gwinnett County, South Gwinnett, the City of Lilburn and the City of Snellville.
1,730 warning glass clings were distributed to alcohol retailers like gas stations and drugstores in Gwinnett County. As of the end of the contract, 139 retailers have chosen to continue to display the materials.
Additional Resources: Learn how to conduct a Warning Glass Cling Campaign here. Learn more about retail access to alcohol and fake IDs here.
Social Availability
Social availability refers to alcohol being given to anyone under 21, which includes provision to minors by adults and the availability of unsupervised places to drink. This was an issue in Gwinnett County because data suggested youth access alcohol in their homes and in the homes of friends.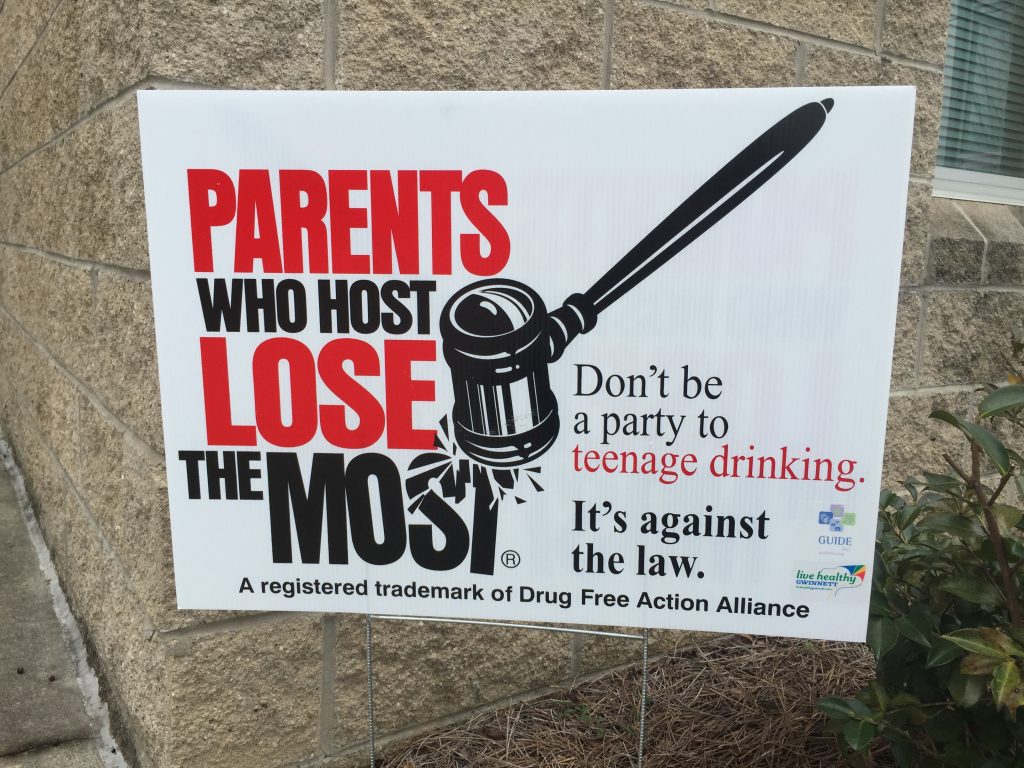 We addressed this with the following strategies: advocating for social host ordinances; placing warning signage in retail establishments; and utilizing the Parents Are the Key, Parents Who Host Lose the Most, Save Brains and other campaigns to increase awareness about the consequences of underage and binge drinking. We also created PSAs for the Motor Vehicle Network to be displayed in the Lawrenceville DMV, as well as for TVgwinnett.
Notable Successes:
Between PSAs shown at the Lawrenceville DMV Office and aired on TVgwinnett, 15 issues of "Inspired to Make Healthy Choices," and five "People Helping People" shows produced with our GAPP-Youth Advisory Board members, our prevention messaging reached 2.9 million people. A number of PSAs were created in other languages (Korean, Spanish, Vietnamese and Chinese) to reach out to and include more of our diverse citizens with these prevention messages.
Public awareness campaigns had extensive reach: Parents are the Key reached 10,000 people, Parents Who Host Lose the Most reached 450,000 people and Alcohol Damages the Teenage Brain" billboards reached 2.1 million people/week.
We were given five Resolutions by the Gwinnett County Board of Commissioners designating April as Alcohol Awareness Month and two Resolutions recognizing Red Ribbon Week.
Additional Resources: Learn more information about social host liability here. Learn how to create and share a social hosting PSA here.
Positive Social Norms
Social norms refer to behaviors, attitudes and/or standards that the majority of people in a group think are acceptable or unacceptable.
We determined that in Gwinnett, youth believe that most teens drink, and adults think that most parents let their kids drink. Local data shows that neither is true. Since social norms often drive behaviors, our positive social norms campaign aimed to correct the misperceptions of these norms.
We addressed this with the following strategies: implementing both adult-focused and youth-focused data-driven social norms campaigns with Gwinnett County Youth Action Teams and GUIDE's Youth Advisory Board to address these concerns within Gwinnett County and the local school system.
Notable Successes:
We conducted a Youth Positive Social Norms campaign in 4 high schools during 2014-2015 reaching 20,000 people and a second campaign in 6 high schools during 2015-2016 reaching 30,000 people.
We conducted an Adult Positive Social Norms campaign throughout Gwinnett County, displaying banners in all Gwinnett County parks, numerous schools, four cities and in the Gwinnett County water bill, Gwinnett County newsletter and on TVgwinnett, which reached 1.6 million people.
Gwinnett County high school 30-day alcohol use decreased from 21.8% in 2010 to 19% in 2014 (Gwinnett Coalition's Youth Health Survey data) and to 13% in 2015 (GSHS II data).
Additional Resources: Learn more information about youth alcohol use in Gwinnett here. Learn how to conduct a Youth Positive Social Norms Campaign here and an Adult Positive Social Norms Campaign here.
GUIDE worked on the Alcohol Prevention Project until September 2016. Instrumental in its success was the Gwinnett Alcohol Prevention Project group (GAPP), made up of volunteers who assisted in planning, implementing and evaluating strategies. These included adults representing various sectors of the community (such as local Gwinnett Police Departments, Gwinnett Coalition for Health and Human Services, Gwinnett County Public School System, Gwinnett County Parks and Recreation and Gwinnett County Communications Department) and our Youth Advisory Board. Our Youth Advisory Board, along with Gwinnett Youth Action Teams, provided a youth voice in all aspects of our project and assured that we include youth-friendly strategies.