For Red Ribbon Week 2016, GUIDE challenged 46 Youth Action Teams (YATs) across the state to tell their stories using the theme "#MyStoryIs…" To prove that the best stories are drug free, GUIDE's goal was to impact Georgia on an unprecedented level by encouraging more participation in a single Red Ribbon Week campaign than ever before. To help these teams to maximize their impact, GUIDE offered a detailed workshop on the campaign at Georgia Teen Institute this summer to allow the teams to get started. In addition, GUIDE provided all the tools necessary to complete the campaign within a #MyStoryIs… digital toolkit complete with templates for posters, activities, a press release, social media messaging and graphics. Armed with these tools, teams all over Georgia made their mark during this year's Red Ribbon Week.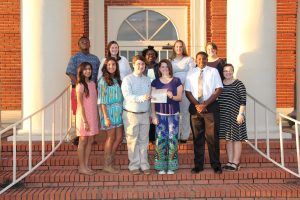 Here are just a few examples of the great work by some of the Youth Action Teams:
Crisp County Youth Advisory Council received a proclamation in the City of Cordele and hosted a "No Time for Drugs" and "MyStoryIs…" themed event at their local middle school. At the event, middle school students participated in a themed mannequin challenge. Using the #MyStoryIs… press release, this team had their Red Ribbon Week activities covered by a local news station, extending their reach by approximately 35,000 people!
Bartow and Floyd County Youth Action Teams partnered with local agencies to spread the #MyStoryIs… messages during the last week of October.

Both YATs hosted photo booths during their lunch periods as well as #MyStoryIs… chalk art contests. The contests encouraged students to tell their stories by decorating a parking spot with an image that made them think "the best stories are drug free." The winners at their respective schools won a $100 gift card.
 Floyd County YAT also designed and provided red shoe laces, color changing pencils and stickers with the theme "iTune Out to Drugs" to all their students. Bartow chose to give out red ribbons at four local high schools and one middle school, handing out over 5,000 ribbons during Red Ribbon Week.

The Mitchell County Youth Advisory Council hosted two Red Ribbon Week rallies in the cities of Camilla and Pelham. They also teamed up with their local Red Ribbon Week planning committee and received a Red Ribbon Week proclamation in the City of Camilla.
The #MyStoryIs… Campaign wasn't just for Youth Action Teams. The digital toolkit was made available for free to any person or organization to utilize, producing an even greater impact across the state and even crossed state lines. Preliminary reports show a total of 384 social media posts, 309 posters and 42 events related to the #MyStoryIs… campaign, reaching over 60,963 youth this Red Ribbon Week!
GUIDE would like to extend a big "thank you" to the many people and organizations who participated in this year's campaign. We look forward to celebrating again with you next year!
Want to find out how you can get involved in GUIDE's Red Ribbon Week campaign next year? Contact Amy Hunnewell, Program Specialist, at amy@guideinc.org to learn more.