It's that time of year again! What time? Prom time!
Each year, this well-known milestone event in popular culture gives high school students an opportunity to attend a formal, black tie affair. Unfortunately, some students automatically assume this celebration coincides with drinking alcohol. In an effort to reduce the amount of teens that drink on prom night, and the problems associated with it, our Youth Advisory Board planned and implemented a Safe and Sober Prom Campaign.
The goal of this project is to use messages to encourage teens to be safe on prom night and participate in activities that do not involve drinking. The messages are included on hanging cards that are placed around the hangers of prom dresses and/or tuxes in prom stores. The campaign also includes posters with the same or similar messages, which are placed around hallways at local high schools.
If your Youth Action Team would like to participate in a similar campaign, follow these easy steps to raise awareness and encourage teens to have a safe, sober and memorable prom.
*Note: If you would like to use our posters, they can be purchased at guideinc.org/shop.
Planning Steps

Begin planning several months before prom season starts to identify businesses and get approval to conduct the campaign and have time to go through all the proper channels.
Brainstorm with your youth organization or Youth Action Team about the awareness message(s) they want on the hanging cards and posters.
Finalize your message, and create samples.
Identify the stores that sell prom dresses and tuxes in your community, and decide how many you will ask to participate.
Identify which schools your team will ask to display the posters.
Develop a schedule and plan for contacting and/or visiting each store. It is best if two to four youth go together to visit the stores.
Brainstorm with the team to define the major points about the campaign for their script for the store visits.
Assign responsibilities and deadlines. Youth should take lead roles whenever possible, and make sure that they have a chance to practice their script or "ask" prior to visits.
Encourage your team to visit the stores. During the visit, show the manager a sample hanging card, and ask if he or she would like to participate. If so, ask how many hanging cards he or she would need and when they are needed.
Also, encourage your youth to meet with their school administration. During the meeting, show the administration a sample of what the posters look like and ask for the school to participate. If administration approves the campaign, ask where and how many you can place around the halls.
Keep track of the stores and schools your team contacts and their responses. Determine how the youth will follow up if they don't receive an immediate answer.
Decide if you will have the hanging cards and posters professionally printed or if your team will print them.
Order enough hanging cards and posters for each of the participating stores and schools, or schedule a time for your youth to come to your office to print out the materials.
Implementation Steps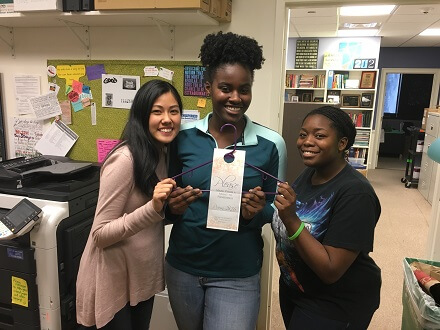 Make sure each person has the script and was able to role play the visit during a previous meeting.
Make sure each person on your team is equipped with enough posters and hanging cards for each store and school.
Deliver the hanging cards to each store. Place the hanging cards on the dress and tux hangers if the manager has given permission for you to do so, or leave them for the manager to distribute. Take a picture so that you can showcase your campaign in your local newspaper or newsletter.
Deliver the posters to each school. Place posters around the hallways if given permission to do so, or leave them with administration.
Keep track of the number of hanging cards and posters your team delivers to each store and school.
Take pictures throughout the campaign, such as during the role play practices, showing the team visiting the stores, pictures of hanging cards on the dresses and/or tuxes and posters on the walls of schools and showing the team thanking the managers. Be sure to document all parts of the campaign!
Celebration and Evaluation
Be sure to thank everyone who participated, including the store owner or manager and school administration.
Make time to debrief with your team after the campaign is over about what your team was able to accomplish and what could be improved for the future.
Submit an article in the local paper highlighting the campaign and thanking the participating stores and schools.
Celebrate the youth and their work, knowing you are making a difference!
Prom should be a time for teens to have fun and celebrate the school year. This campaign is a great way to remind prom participants to enjoy a safe and sober night while also encouraging positive and healthy choices during the celebration.
For more information about the Safe and Sober Prom campaign, contact Michael Davis at michael@guideinc.org.