Contributed by Kinsey McMurtry, MPH
On March 16, 2016 young adults across Georgia are encouraged to stand out, speak up and take control against Big Tobacco as part of the national 2016 Kick Butts Day program created by the Campaign for Tobacco-Free Kids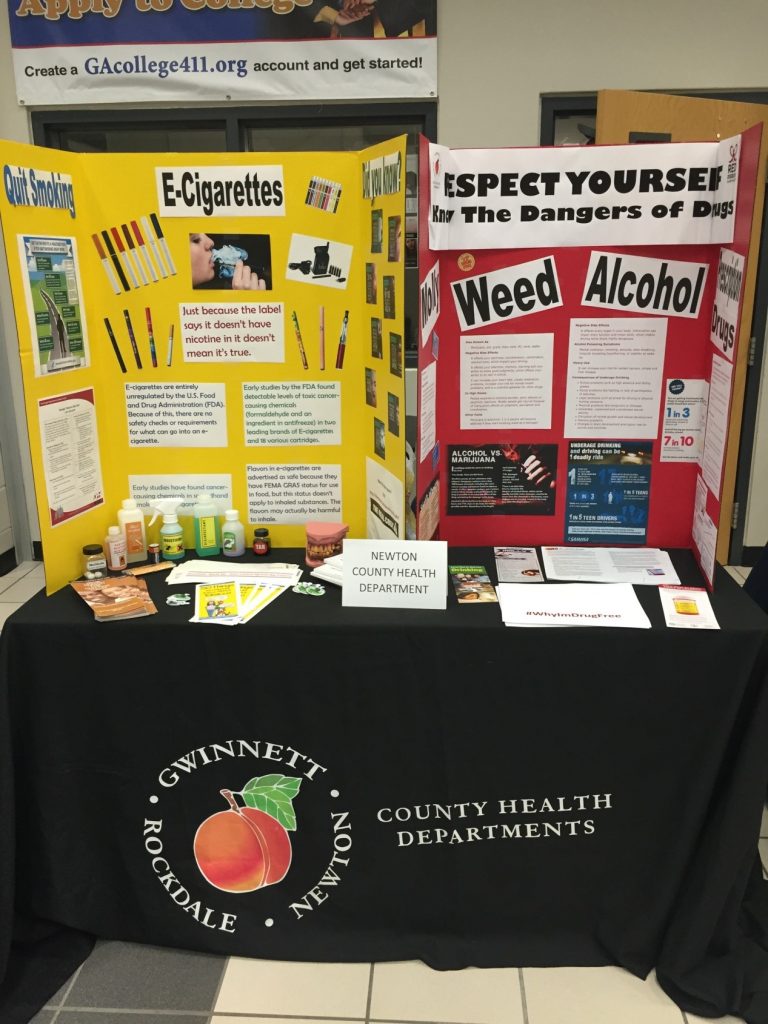 . Each year, teachers, youth leaders and health advocates organize events to raise awareness about tobacco use in their communities, encourage youth to reject the marketing techniques used by the tobacco industry and urge elected officials to protect kids from the tobacco industry.
This year, the Gwinnett, Newton and Rockdale County Health Departments will partner with Newton High School to host a Kick Butts Day event. Future Business Leaders of America and other student ambassadors from Newton High School have organized a lunch event where representatives from five organizations will come and speak to students about issues like alcohol and prescription medicine abuse, suicide prevention and tobacco/e-cigarette use prevention. Participating organizations include The Rockdale Drug-Free Coalition, HEARTS for Families, Project AWARE, the GNR Health Department and Emory University's Center for Maternal Substance Abuse and Child Development.
Newton County has a high smoking rate. According to The Robert Wood Johnson Foundation County Health Rankings, 21% of adults in Newton County smoked in 2015, and the second largest cause of death in Newton County is lung cancer. Despite these alarming numbers and devastating health consequences of tobacco use, the tobacco industry continues its innovative marketing campaigns and new products designed to appeal to youth. Vape pens, e-cigarettes and hookahs are growing in popularity, especially for younger populations due to the variety of flavors of these products.
E-cigarettes contain nicotine and harmful chemicals, but another problem is they are unregulated by the government. This means consumers have no idea the type and amount of chemicals each product contains. Many of the chemicals in these products are not meant to be inhaled and are already known to be toxic or cause cancer. Because these products are unregulated, it's impossible to know how much nicotine they have, even if the label says it has no nicotine. As we all know, nicotine is extremely addictive, so keeping these products away from our youth is vital. Until we can better understand the health effects of the chemicals in these products, it is best to not use them at all. If you are trying to quit smoking, none of these products have been approved as a quit-aid.
If you are trying to quit smoking, please call the Georgia Tobacco Quit Line at 1-877-270-STOP (877-270-7867). For Spanish please call 1-855 DEJELO-YA. The Quit Line is an excellent resource that provides confidential, professional tobacco cessation telephone counseling. While supplies last, you can also receive a free, 4-week supply of Nicotine Replacement Therapies (gum or patch).
Kinsey is the Health Promotion Coordinator for Gwinnett, Newton and Rockdale County Health Departments where she manages health promotion programs and campaigns on physical activity, nutrition, food access, tobacco use prevention, workplace wellness and chronic disease prevention education. The Gwinnett, Newton and Rockdale County Health Departments work to protect and improve the health of those who work, live and play in their community by monitoring and preventing disease; promoting health and well-being; and preparing for disasters. For more information please visit the Health Department's website at www.gnrhealth.com or call the Health Promotion Office at 678-442-6891.