"What will the world miss if you don't tell your story?" – Donald Miller
Written By Mary Kate Chapman
Everyone has a story to tell. Our past experiences, good and bad, define who we are and help propel us into the people we're supposed to be. Next summer at Georgia Teen Institute 2016, we invite you to write the next chapter of your story by joining our staff!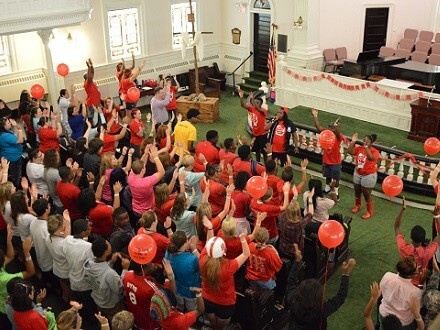 Georgia Teen Institute is a prevention and leadership program for Youth Action Teams throughout Georgia. This program provides unique, life-changing experiences that motivate youth to make a positive impact in and around their communities. By being a part of this program, staff members and participants, youth and adult alike, develop as leaders, learn how to effectively work as a team and become empowered to create meaningful, sustainable change. Those who attend Georgia Teen Institute leave knowing that their stories are richer as a result!
My Georgia Teen Institute story began the summer before my senior year in high school. I was reluctant to go and even had a negative attitude as I got on the bus to travel to Oxford College. However, as soon as I arrived, I knew my story was about to change for the better. During the program, I found friends from across the state who had the same goal as me: to create a better community, state and world.
We learned that each of us, even though we were young, had the power to create such change. Georgia Teen Institute provides participants with the skills necessary to assess the needs of their community; find and mobilize available resources; and plan, implement and evaluate an action plan so that needed change can and will take place! Youth learn that they have a voice, one that is very strong and needed in our world. I'm so grateful that I got on that bus. Now, 15 years later, it's a privilege to be the Director of the program that changed my life so many years ago.
In any story, there are five essential elements required to make it complete. As a staff member, we need YOU to help write our story and make Georgia Teen Institute a success in 2016! Here's how you can be part of our story next summer:
Characters: At Georgia Teen Institute, you'll have the opportunity to work with various characters, youth and adults, participants and other staff, from all walks of life. Whether it's during General Sessions, Family Group, Team Meetings or even Free Time, you'll help foster new friendships, support participants in developing skills and meet others who will impact your own story.
Setting: While you will lead Georgia Teen Institute participants at Oxford College, the program truly continues throughout the year in communities across the state. Because of your knowledge and support as well as the hard work and dedication of Youth Action Teams, communities around Georgia have a positive story to share and better outcomes for the future.
Plot: During the program, you help teams utilize an action planning process, the Strategic Prevention Framework; encourage participants to explore hands-on, engaging workshops related to alcohol, tobacco and other drug prevention, leadership and skill development; facilitate new, thrilling activities that can easily be implemented in their own programs; and inspire them to connect with peers from around the state.
Conflict: While there is conflict in Georgia communities related to alcohol and drug use among teens, Georgia Teen Institute provides staff and participants with the opportunity to brainstorm ways to change those issues! As a staff member, you can be a part of that change by leading teams through this process. Additionally, being on staff isn't always easy; there are always challenges to overcome and opportunities to learn and grow. If you apply to be on staff, you'll learn how to effectively work with a supportive, encouraging and fantastic team!
Resolution: Because of Georgia Teen Institute staff, lives and communities are changed forever. There is nothing quite like our staff family and the story we share together. Don't miss out on an incredible chapter to add to your story. Apply to be on staff today!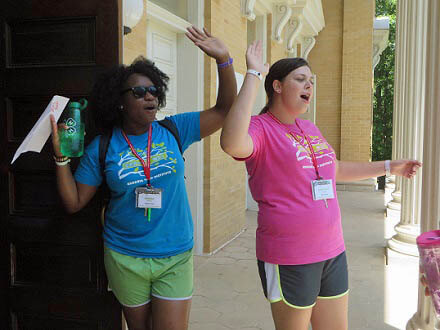 Georgia Teen Institute staff applications are available now, and you can apply by clicking here.
Applications are due by 5 pm on January 8, 2016. We hope that you'll Tell Your Story and join us for this life-changing experience!
Have questions? Feel free to email us at info@georgiati.org. We look forward to hearing your story next summer.