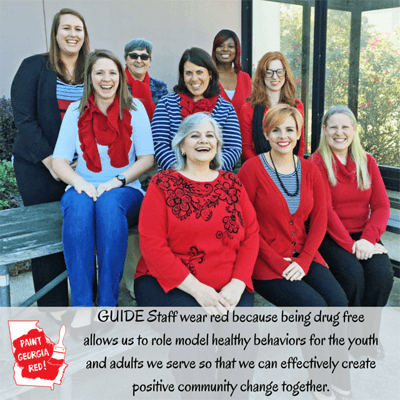 Over the past several months, we've asked individuals and groups from across the state to help us Paint Georgia Red by wearing red and telling us why they choose to be drug free. This simple act is a way for us to celebrate Red Ribbon Week, but also to pause and reflect on what empowers us to live a drug-free life. For some, it is sports, or another natural high. For others, the support of friends and family. Many want to be positive role models for their peers. Several mentioned their future and how using drugs would simply be an obstacle in creating a successful life. Some wear red to show that being drug free is a choice that everyone can make, and that if they make that choice, they're not alone. Regardless of the reason, choosing to be drug free is one of the most important life decisions you can make.
At GUIDE, we celebrate Red Ribbon Week year after year in different ways. Some years we wear wacky socks, backwards clothing, hats and shades. This year, we wanted to hear from you and showcase the numerous people and organizations around Georgia who believe what we believe: that being naturally high is a way of life. That youth need positive, drug-free role models to support them. That striving to be healthy will enable us to achieve our goals, whether the goal is to graduate high school, become an athlete, go to college, start a career or help to make the community a better place.
We were overwhelmed with the responses that poured in, particularly during Red Ribbon Week. By the end of October, we received 295 submissions from 87 groups, organizations and schools, representing 44 Georgia counties. One organization submitted a total of 27 entries to win our group prize; congratulations to Marietta City Schools Youth Action Team – Marietta Middle School Beta Club! Their organization will be awarded a $250 check to continue creating positive change in Cobb County. As for our individual prize, the person who submitted the best photo and prevention message was Rico Bussey from Students Konstantly Working Against Destructive Decisions (SKWADD) in Columbia County! Rico will receive a $100 Visa gift card for his participation in the campaign, dedication to being drug free and positive example he sets for others. Each photo and message that we received highlighted a unique Red Ribbon Week celebration, and collectively it was undeniable that Red Ribbon Week 2015 was the best yet.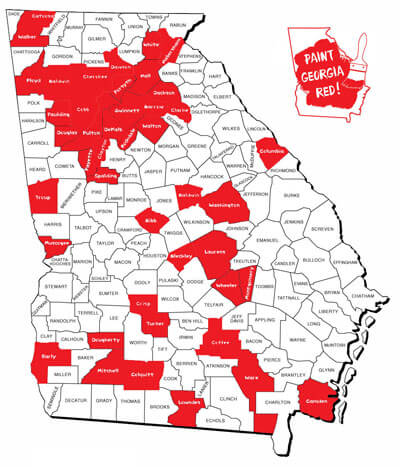 We painted Georgia red. Maybe not every county or every community, but we know that each person who submitted a photo and declared why they choose to be drug free matters. Each person has the power to make a positive impact on their peers, in their schools and in their community as a whole. We also know that while Red Ribbon Week 2015 is over, our work is nowhere close to being finished. We invite you to keep sharing your message, keep talking about the importance of being drug free, keep sharing the myths and realities of substance use, keep planning and implementing community projects and most importantly, keep prevention alive. Until Red Ribbon Week 2016, let's keep painting Georgia RED because we know that by working together, we can and will make a difference.