A very happy birthday to one of our programs… the GUIDE Youth Advisory Board (YAB)! For ten years, the YAB has created positive community change in and around Gwinnett County and continues to do so. This program provides opportunities for dedicated Gwinnett County high school students to use their voices to make a difference. They plan prevention projects, campaigns and events all with the intention of creating a better community.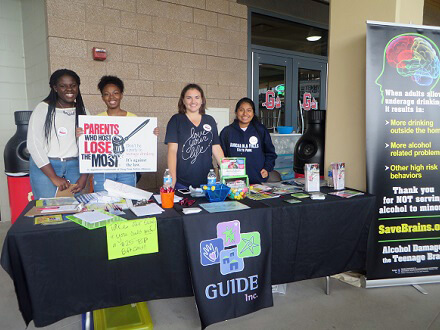 In years past, the YAB has coordinated several Youth Leadership Conferences, participated in community events to provide information related to the benefits of living an alcohol- and drug-free lifestyle and implemented numerous prevention projects in county schools to address issues related to tobacco, underage drinking and marijuana use. In addition to these projects, the YAB continues to work closely with our local government. Some of this work includes receiving proclamations from the Gwinnett County Board of Commissioners for Alcohol Awareness Month in April and Red Ribbon Week in October. Earlier this year, YAB members attended the first ever Substance Abuse Prevention Day held at the State Capitol. They were able to share important information with legislators on issues that they encounter in their communities.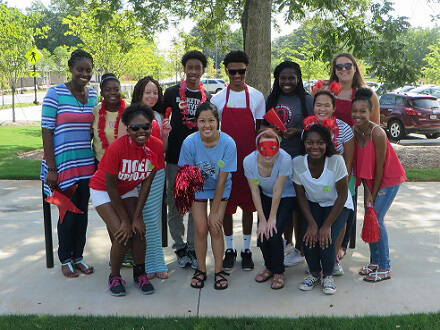 We're excited to kick off another year and continue civic-minded activities with the 2015-2016 YAB. This year's members are Adriana Miller (Mill Creek), Brandon Brinson (Peachtree Ridge), Bridget Nwokocha (Norcross), CJ Jordan (Peachtree Ridge), Dawn Awonaike (Archer), Haley Gray (Archer), Janice Samo (Grayson), Kendall Robinson (Greater Atlanta Christian), Kwan Brown (North Gwinnett), Laura Middleton (Old Suwanee Christian), Naja Nelson (Norcross), Norma Gutierrez (Collins Hill), Patricia Granda-Malaver (Collins Hill), Ryan Kyle (Peachtree Ridge), Sage Carson (Discovery) and Toju Pessu (Archer).
In order to prepare YAB members for the numerous programs and activities they'll help plan and implement this year, we held our first ever YAB Summer Session in July. During the session, members bonded as a team and learned about the Strategic Prevention Framework and Community Level Change Strategies. Stay tuned for more information about their upcoming projects. They are determined to make a difference in our community and we're excited to see the positive change that will come from their dedication!