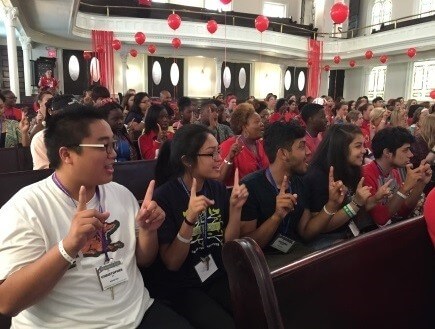 With one week down, our GTI 2015 Staff is back at Oxford College to make the final preparations for another full week of the program. We are re-energized and beyond excited to begin Week 2! As we are busy filling Family Group and Team Meeting bags, fine-tuning facilitation skills, replenishing the TI Store and doing countless other tasks to help us repeat all the magic, we want to share with you some noteworthy numbers about this year's program. Did you know?
For both weeks of our 2015 program, we have:

45 people on the GTI 2015 Staff
45 Youth Action Teams
310 participants
30 Georgia counties represented
18 workshop presenters and keynote speakers
25 team building activities
$5,416.28 fundraised by our staff
GTI has a long history because:

This is the 27th program year
We've called Oxford College home now for 25 years
GTI has had 6 directors; this year we welcome Mary Kate Chapman as the new GTI Director!

At Oxford College, we utilize:

Over 100 dorm rooms each week
11 buildings on campus
Key cards to access the buildings at Oxford, for the 1st time this year!
Our feet to take us everywhere we go; the average staff member walks 16,000 steps each day!

In order to help us Branch Out at GTI this year, we packed:

500 pencils
90 balls of yarn
35 types of items for the TI store
750 t-shirts
600 cups of coffee to keep the GTI Staff alive, awake, alert and motivated
28 songs on the GTI playlist
1,340 leaves made of construction paper to use in Family Group
50 hula hoops and 50 rolls of toilet paper for team building activities
60 red balloons for our Red Ribbon Week-themed General Sessions
As you can tell by the numbers, this year we are Branching Out in many ways, from the amount of people involved in making GTI incredible to having a new Director to our eclectic packing list. We are so excited to kick off Week 2 and see what a difference all of our teams will make across Georgia in the upcoming year!