This year, the GUIDE Youth Advisory Board (YAB) was full of fun, learning and community change from our busy meetings to our numerous projects, campaigns and events! How better to recap the year than by the GUIDE Golden YAB Awards!
The first award is for this year's Record Breaking Release. The winner is… Walk Like MADD! YAB members were extremely successful because this is where they received the most signatures at one event. They received a total of 140 signatures from adults pledging not to provide alcohol to minors. The YAB also distributed prevention materials and educated the community on the dangers of underage drinking.
Now, it's time to announce the award for the Best Production Design, which is for the project that took 10 hours to plan but only one minute to implement. Congratulations to… the Partnership Against Domestic Violence Teen Summit! The YAB was excited to be a part of the Planning Committee for the Teen Summit that took place in February. At the Summit, YAB members engaged participants in several Minute-To-Win-It games. While the YAB spent numerous hours planning these games, they only lasted one minute.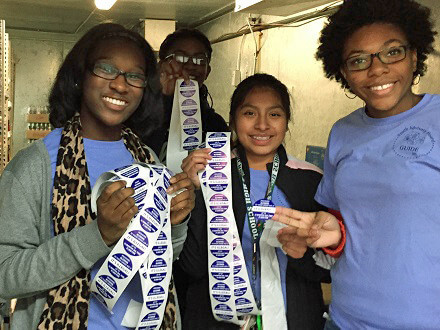 Up next is the Stickiest Scene, which goes to… the Sticker Shock Campaign! The YAB spent the majority of their fall planning this campaign, which was implemented in December at three convenience stores in Lawrenceville, Lilburn and Grayson. YAB members placed several hundred stickers on packages of alcohol in these stores, several warning glass clings on entrance and refrigerator doors and even put up a few posters with messages to remind adults of the consequences of providing alcohol to minors.
We certainly must mention the Box Office Holiday Premiere award, which goes to… the YAB Christmas Wish List Taping on TVgwinnett's People Helping People show! The members of the YAB were so creative in highlighting various organizations around Gwinnett County and their specific volunteer, service and operating needs this past holiday season.
For this year's Breakthrough Performance, the award goes to the campaign with the highest number of teens impacted. The winner is… the "Marijuana… It's more harmful than you think" campaign! The YAB implemented this campaign in April to educate their peers and the community on the dangers of marijuana use, as well as encourage students to not skip school on April 20 to smoke marijuana. More than 100 students signed a pledge indicating that they would not skip school on April 20, and 9,342 people saw these messages during the in-school campaigns and on GUIDE's social media.
We know you have been waiting for Best Motion Picture! That winner is… drumroll please… the Underage Drinking Taping for TVgwinnett's People Helping People show! For Alcohol Awareness Month in April, several YAB members showed off their confident public speaking skills and shared why they are passionate about living an alcohol-free lifestyle while encouraging their peers to do the same.
Congratulations to all of our winners! We would also like to give special thanks to our graduating seniors and to wish them well on their upcoming adventures.
The Best Actress in a Leading Role award goes to… Gaby Guzman-Simon, the 2014-2015 YAB President! Thank you for your incredible leadership and commitment.
The winner of the YAB Generational Leader award is… Charlene Marsh! She was the 2014-2015 YAB Vice President and a long-time member of four years.
Best Supporting Actress goes to… Christine Edih. She did a great job getting packets together at the Public Safety Fall Festival and making it a success!
The Best Duo award goes to… Cayce Reese and Abby Day for representing the YAB on GUIDE's Board of Directors for 2014-2015.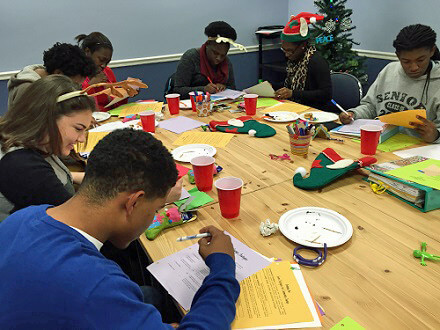 Last but not least, for the Outstanding Cast Performance, the winner is… all 12 of our outstanding YAB members. They attended 10 meetings throughout the school year, where they each led an icebreaker, brought a delicious snack for us to enjoy and utilized the Strategic Prevention Framework to plan projects and events. Each member used their voice to help GUIDE with our prevention programs, and we couldn't have done it without them!