Did you know that alcohol is the most widely abused substance among youth in Georgia and the U.S. and that consuming alcohol underage can have serious effects on the developing teenage brain? That is why preventing underage drinking is a priority nationally, statewide and locally!
Since 1987, the National Council on Alcoholism and Drug Dependence, Inc. (NCADD), has sponsored April as Alcohol Awareness Month nationally "to increase public awareness and understanding, reduce stigma and encourage local communities to focus on alcoholism and alcohol-related issues." It is important for us to spread this message locally as well.

GUIDE is one of more than 40 providers around the state that partners with the Department of Behavioral and Health and Developmental Disabilities, which oversees the Alcohol Prevention Project. As a provider, we utilize several environmental prevention strategies to reduce access to alcohol and binge drinking among 9-20 year olds. Through collaboration with providers in Gwinnett County specifically, we know that our collective efforts are paying off; according to the Gwinnett Coalition for Health and Human Services Youth Health Survey, underage drinking by high school students has decreased from 45% to 19% in the past decade.
While progress has certainly been made, this issue is still very much a priority in Gwinnett and in the state. As such, GUIDE celebrated Alcohol Awareness Month in a variety of ways this year; we can't wait to share them with you!
We first worked with other providers in our region to increase media coverage and awareness around issues related to underage drinking by highlighting all of our different initiatives in this press release and letter.
GUIDE Staff enjoyed participating in NCADD's Alcohol-Free Weekend Challenge from April 3-5, demonstrating that alcohol isn't necessary to have a good time.
We were thrilled to receive a proclamation from the Gwinnett County Board of Commissioners designating April as Alcohol Awareness Month in Gwinnett.
With the help of TVGwinnett, we were able to have a Public Service Announcement (PSA) created that will soon be showing in the Lawrenceville DMV. This PSA includes information specifically for parents about their role in underage drinking prevention.
Our Youth Advisory Board (YAB) and local Youth Action Teams also contributed to increasing alcohol awareness in Gwinnett County this month by putting their ideas and projects into action.
Thanks to these groups, the Parents Who Host, Lose the Most campaign was heard and seen throughout the community. This message is important because it encourages adults not to host teen parties with alcohol in order to keep our youth safe.
These groups ran underage drinking prevention campaigns at their schools related to two high-risk spring events, spring break and prom. An example of this is the Safe and Sober Prom campaign, which is meant to help high-school-aged young men and women make responsible decisions for prom.
Several of our YAB members were able to raise their voices about issues related to underage drinking and provide advice to parents of teens on Gwinnett's "People Helping People" show.
The HOOKED Teen Club also put together a powerful PSA to make an impact on other teens and show that there are teens who believe drinking alcohol is not acceptable. The club members wrote the script based on what they have learned about the damage alcohol can cause, both physically and emotionally.
While Alcohol Awareness Month is coming to a close, underage drinking prevention is an issue we are passionate about year-round.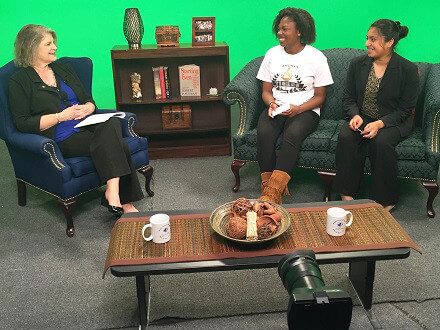 If you haven't already, be sure to check out the NCADD Alcohol Awareness Month guide as it contains pages of valuable resources that you can use for your future prevention projects. Also, if you are interested in requesting a proclamation of your own, say for Red Ribbon Week in October, here is a step-by-step guide to support you. Finally, we invite you to stay connected with the latest alcohol updates and research through these entities and to utilize any of our materials to learn more and have relevant conversations with your family.