GUIDE has seen some exciting changes in the new year as we brought on two incredible ladies who have transitioned from their volunteer days with us to full-time staff members. We are very fortunate to have them on board and would like to introduce you to the newest members of the GUIDE team: Abby Keenan and Melinda Shealey.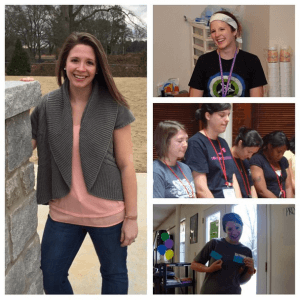 We are so pleased to welcome our new Communications Specialist, Abby Keenan, to the GUIDE team! Abby first got involved with GUIDE through the Intern for a Day program at the University of Georgia in 2009. Since then, she has volunteered over the years with the Georgia Teen Institute program and has assisted with various GUIDE trainings. Some of her favorite GUIDE memories are learning to embrace her "gold"-ness at a True Colors workshop and doing a GTI Staff Dance to Taylor Swift and Beyonce. In her new role as Communications Specialist, Abby is looking forward to getting to collaborate with everyone on our staff in order to implement the social media strategy, reconnecting with people associated with GUIDE and GTI, as well as meeting new people, and having the opportunity to continue learning and growing personally. Outside of work, Abby enjoys spending time with family and friends, traveling with her husband, running, reading, organizing (really) and being outside.
We are also so excited to introduce our new Training Coordinator, Melinda Shealey! A familiar face to many, Melinda has been involved with GUIDE for several years, first connecting with us at our "Think Outside the Box" Conference in 2011. Melinda has also come to Georgia Teen Institute (GTI) as an Adult Advisor with a Youth Action Team and has served GUIDE as a volunteer for GTI and several training events over the years. Melinda's favorite GUIDE memories include being awarded Volunteer of the Year last summer at GTI and being told "YOU'RE HIRED!" Melinda reflects on the first time she heard people scream with excitement over winning pencils at GTI, saying that she wanted to run for her life. Now, she screams for joy over pencils! In her new role as Training Coordinator, Melinda is most excited about being able to make a positive impact in the lives of so many youth and adults, meeting new people that can inspire and help her to grow as a person and meeting new challenges. Outside of work, she loves to go on cruises, watch British comedies and dramas, attend plays and musicals and, above all, she loves spending time with her family.
If you know Abby and Melinda, you know how lucky we are to have them on our team. Please join us in welcoming them to GUIDE!