Today marks the end of an era in Gwinnett County, in Georgia and in the field of prevention. One of the pioneers of the prevention field and biggest difference-makers in our community, Ari Russell, retires today after 28 years and 3 months of service as the Executive Director of GUIDE.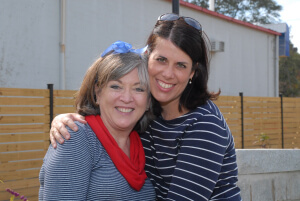 GUIDE was formed as a joint effort between the Gwinnett County Board of Commissioners and the Gwinnett County Board of Education. They wanted to have a comprehensive, coordinated and proactive approach to reducing and preventing substance use and abuse. A steering committee of prominent Gwinnett leaders developed a preliminary plan and secured funding to hire an Executive Director. Ari Russell was hired in July of 1986 and has been at the helm of this agency ever since.
Under Ari's leadership GUIDE has had many significant accomplishments, including:
Conducting a prevention needs assessment in 1986 that lead to recommendations to the Gwinnett County Board of Education that were subsequently adopted; including the adoption of K-12 drug prevention curriculum, providing staff development about prevention issues, conducting drug use surveys on a regular basis, and adopting a no-smoking policy that included faculty and staff;
Working with the Gwinnett County Sheriff's Department to develop the ADVANCE program, a substance abuse and violence prevention curriculum that was conducted by deputies in all fifth grade classes in Gwinnett;
Overseeing all state-funded prevention services in Gwinnett, Rockdale and Newton Counties for five years, helping to build the infrastructure in Rockdale and Newton Counties until the Family Connection Collaboratives were able to take on the responsibilities;
Partnering with Public Health to secure a CDC tobacco prevention grant that led to the formation of Smoke Free Gwinnett and, eventually, the adoption of clean indoor air ordinances in three Gwinnett cities, followed by the County;
Establishing the Gwinnett Alliance With Youth that formed Community Cluster Care Teams in every school cluster, increased public awareness about risk and protective factors and developmental assets and instituted the "Champions" project;
Originating the Georgia Teen Institute in 1989. This program has operated annually since then with over 12,000 youth having participated in the program;
Developing Youth Volunteer Centers in 1998. The first was located at Collins Hill High School, and supported by funding from United Way. The initiative evolved into the Youth Leadership & Action program and the 3-Year Youth Action Team Empowerment Model. Since 1998, over fifty Youth Action Teams have been established, providing youth leadership and service opportunities for thousands of middle and high school students in Gwinnett County.
Establishing the GUIDE Youth Advisory Board and College Advisory Board.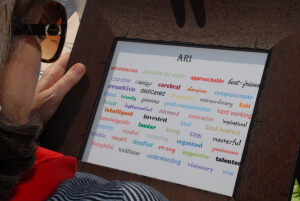 Ari was one of the founders of the National Association of Prevention Professionals and Advocates, a membership organization that advocated on a national level for professionalism in the field and adoption of research-based strategies and of the Prevention Credentialing Consortium of Georgia, bringing a professional certification to prevention specialists in Georgia. In 2007, Ari received the first Ray Avant Excellence in Prevention Award from the Georgia Office of Prevention Services and Programs for her contributions to the field, and in 2011 she was the Georgia nominee for IC/RC Prevention Professional of the Year. More recently, Ari was honored with the Extraordinary Contribution to Prevention Award from the Department of Behavioral Health and Developmental Disabilities and the Barbara King Community Hero Award from the Gwinnett Coalition for Health and Human Services.
The number of lives impacted through the work GUIDE has accomplished in the last 28 years are immeasurable, and Ari has been the catalyst for the change that has occurred in Gwinnett and across Georgia. Never one to lead from behind her desk, Ari has not only been the brains and creativity behind many innovative, cutting-edge and meaningful programs and projects, she was often the one implementing the programs, too. Over the years, Ari's job – in addition to the day-to-day work of being an Executive Director – has included leading Arts and Crafts at the Georgia Teen Institute, teaching hundreds of workshops (and making the thousands of copies that go with them) and feeding hundreds of youth and adults at various training events and Teen Institutes. A mentor, friend and role model for other GUIDE Staff and many others across the state, Ari's leadership has influenced many prevention professionals and partners and is felt throughout our field and our state.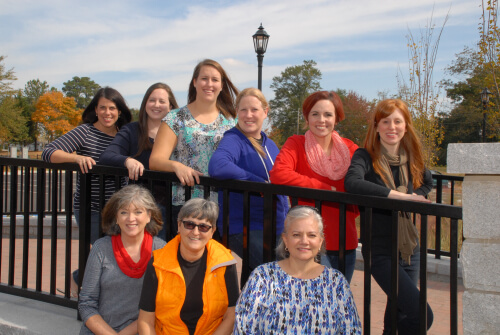 Earlier this week, as we closed our final staff meeting together, we said to Ari, "This is all because of you." Though she's always collaborated, found partners and sought funding to see visions become realities and had a team of colleagues at her side, the state of prevention in Gwinnett wouldn't be where it is without Ari. Though she's been fortunate enough to work with incredible leaders across the state, region and country,  prevention in Georgia would look very different if it had not had Ari. Though there are countless partners in the work GUIDE does that makes us successful every day, the work GUIDE has accomplished wouldn't be the same without Ari.
Today is the end of an era. It won't be easy for many of us. Change of this magnitude is frightening, and we know that no one can fill Ari's big shoes. Ari is a legend, a pioneer, a visionary, a change maker. Her influence will be felt far and wide for many years to come. And Ari can leave knowing that her life, her work and her leadership made a difference.
If you would like to join us as we celebrate Ari and our next Executive Director, Jessica Andrews-Wilson, please join us on November 14 for our "Pass the Torch" celebration. For details on this event and to RSVP, click here.
Thank you, Ari, for 28 years of service to Gwinnett County, Georgia and the prevention field. You will be missed!