Are you looking for a great project your Youth Action Team or organization can do? You can request a proclamation for your community!
A proclamation is an official designation of an event. Proclamations are a great way to educate the public about a specific issue and bring attention to a cause. A proclamation is an effective tool for gaining public recognition of your event because it carries the full support of a key government official in your state or community. Some examples of events you can request a proclamation for are Alcohol Awareness Month in April, Red Ribbon Week in October and Impaired Driving Prevention Month in December.
Just follow these five steps:
STEP 1: Contact the State or Local Government Office
Governors, county executives, mayors, state legislatures, municipalities, counties, cities or towns can issue proclamations. For city proclamations, a mayor, city manager or city marshal may be the person to sign. For counties, it will most likely be the county commissioners. You do not have to have both the city and county proclamations; you can decide which entity in your community would reach more people.
Determine whether you would like to request a proclamation from your city, county or state and locate the website for this entity. On the website, you may find a tab called "Ceremonial" or "Forms," under which the proclamation request guidelines may be located. Otherwise, use the site's search feature and type in the word "proclamation." Another option is to look on the "Contact Us" tab. This page may allow you to write a brief message, such as:
How do I ask the Mayor to issue a proclamation declaring [date] as [event name]? (e.g., April 2017 as Alcohol Awareness Month; October 23-31, 2017 as Red Ribbon Week; or December 2017 as Impaired Driving Prevention Month?)
In addition to seeking the specific guidelines for requesting a proclamation, be sure to inquire about the preferred format. This information will allow you to begin to draft an effective proclamation.
STEP 2: Draft your Proclamation 
There are two styles to choose from when writing your proclamation: traditional and modern. They differ in format; however, the purpose is the same and they are equally effective. While the traditional format is the most frequently used, be sure to clarify which style is preferred with your local official prior to drafting your proclamation.
Traditional proclamations begin with a series of statements starting with the words "whereas," meaning "because," "inasmuch" or "since." Each clause states the problem or issue being addressed and is followed by a concluding phrase beginning with "therefore," which specifically requests the support or action needed. Modern proclamations are written in a letter format.
A sample of a traditional proclamation is provided here in order to assist you with drafting your proclamation. Modify this sample proclamation by inserting information about the nature of the issue in your community and by providing local statistics.
Follow the GUIDElines you receive from your government office. Be prepared to have an electronic version of your proclamation available. Most offices will print the proclamation on official letterhead or certificate paper, therefore, sending them an electronic version is usually requested.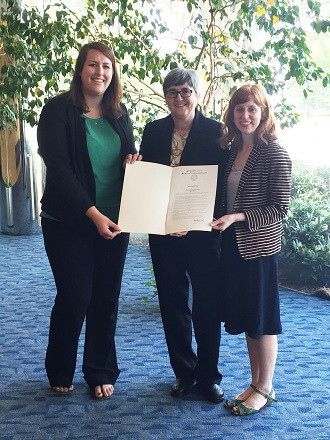 STEP 3: Follow the Guidelines for Submitting a Proclamation Request 
Each city, county and state will have their own GUIDElines and procedures for signing proclamations. The easiest way to research your city, county or state's GUIDElines is to look on its website and search for the term "proclamation." Some of the larger cities and counties will have proclamation GUIDElines listed. Smaller cities and counties may provide contact information on the website to call or email for proclamation information.
Oftentimes a cover letter requesting the proclamation is required. We have provided a sample cover letter written to a city, county or state's government office in request of a proclamation here.
In order to expedite the process, the following information is usually required when submitting a proclamation request:
A draft text of the proclamation in the preferred format
The purpose of the proclamation (e.g., Alcohol Awareness Month, Red Ribbon Week or Impaired Driving Prevention Month)
The date when the proclamation is needed
A brief history of your organization
The name and daytime telephone number and/or email address of the contact person
STEP 4: Allow Enough Time 
The wheels of government turn slowly, so be sure to begin the proclamation request process at least two to three months in advance of your event date or as soon as possible. Timing is key if you want to be able to have the proclamation announced at a city council or county commissioner meeting. You may be required to send a copy of the proclamation to these representatives two to eight weeks ahead of the meeting, depending on the size of your city or county. Keep in mind that some legislatures are not in session during the summer (particularly in August), so you may need to build in extra time to find a local official who can sign your proclamation. Do not hesitate to follow up to check the status of your proclamation and upon doing so, offer to provide any additional information the official may need.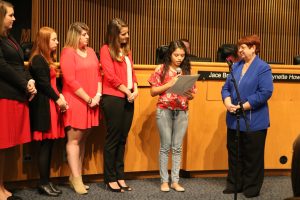 STEP 5: Make an Event Out of It!
Again, follow the GUIDElines that you are given as to whom (and how many) you can bring to the proclamation meeting or signing event. Notify your local paper or media outlets about the proclamation. Distribute printed copies to local reporters. Have the proclamation photo-enlarged for display at a news conference and/or in a prominent public place. Send copies to local newspapers. As with any media piece, demonstrate its importance to the media's audience by including local statistics.