Associate Executive Director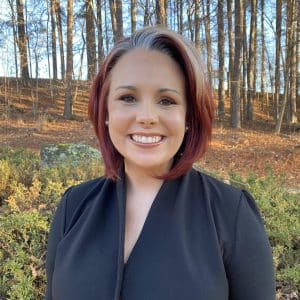 Mary Kate C. Chapman serves as GUIDE's Associate Executive Director of Training & Capacity Building. Mary Kate is responsible for oversight of the Youth Advisory Board, customized training events for both youth and adults and the coordination of various conferences. Mary Kate began her journey with GUIDE when she was 17 years old as a GTI participant. She continued to volunteer and serve as a trainer for GUIDE in various capacities and is now happy to call GUIDE home.
Mary Kate began her work at GUIDE in November 2011 and has served as a Program Specialist, Director of Training and Capacity Building and Director of Youth Leadership and Engagement prior to her current position as Associate Executive Director. Previously, she worked for another non-profit specializing in health education. She served as a Project Leader where she developed and implemented multiple wellness initiatives across the state. She taught physical activity and nutrition in over 75 elementary schools statewide. This acted as the catalyst for her passion to motivate and empower youth and adults to make lifelong healthy choices.
Mary Kate is an Internationally Certified Prevention Specialist through the Prevention Credentialing Consortium of Georgia and regularly trains others in the Core Courses required by PCCG.
Mary Kate holds a Master of Art in Liberal Studies (English) from Clayton State University and a Bachelor of Science in Communications (Media Studies) from Kennesaw State University. She has presented at local, state and national conferences and is an active member of the National Society of Leadership and Success.
You can contact Mary Kate by calling 678-495-8172 or emailing marykate@guideinc.org.