Program Coordinator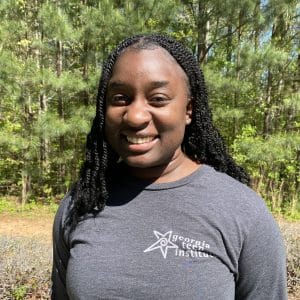 Crystal Douglas serves as the Program Coordinator for Georgia Teen Institute (GTI), GUIDE's summer leadership conference for Youth Action Teams. Since joining GUIDE in January 2023, Crystal has worked to plan and implement various aspects of the program.
Crystal was born in Plantation, Florida and raised in Snellville, Georgia, where she attended elementary, middle and high school. She then attended The University of West Georgia majoring in early childhood education.
Before GUIDE, Crystal has always loved working with in various capacities. From her teenage years until starting her employment at GUIDE, she has served as a volunteer staff member for GTI, leading small and large groups; facilitating team building, leadership training and action planning; as well as providing support and mentorship for participants and fellow staff.
Outside of her work with GUIDE, Crystal enjoys spending time with her family and playing with her niece and dog. She also enjoys hanging out with her friends and going to the gym to work out.
You can contact Crystal by calling 470-864-1256 or emailing crystal@guideinc.org.