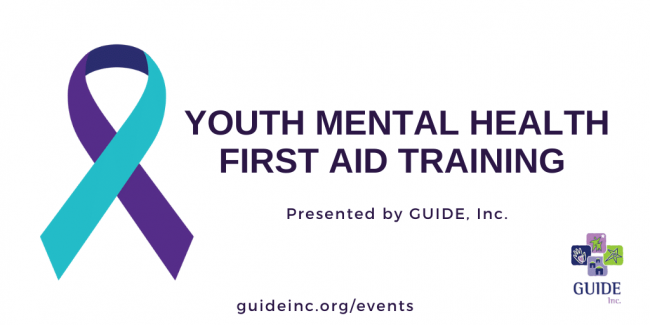 Youth Mental Health First Aid is designed to teach parents, family members, caregivers, teachers, school staff, peers, neighbors, health and human services workers, and other caring citizens how to help an adolescent (age 12-18) who is experiencing a mental health or addictions challenge or is in crisis. Youth Mental Health First Aid is primarily designed for adults who regularly interact with young people.
Youth Mental Health First Aid is a 6.5-hour course that teaches how to help youth who may be experiencing a mental health or substance use challenge. There are 2 hours of pre-work to be completed before the instructor-led session.
Participants will receive login information to complete the 2-hour self-study pre-work at least 1 week in advance of the training. Pre-work will need to be completed by 5 pm on the day before the training. This is a requirement to participate in the training. Individuals who complete the pre-work but do not attend the training will be required to re-do the pre-work if they reschedule for another training session.
There will be a 15 minute grace period to log on to the training. After 15 minutes, late individuals will not be allowed in and will have to wait until the next training.
Registration will close when our capacity limit of 20 participants has been met or at 5 pm on Tuesday, November 28 (whichever comes first).
This training requires a minimum of 10 participants per virtual event. If there are not at least 10 people registered for an event, it will be canceled. If you are signed up for a training that is canceled, we will reach out to let you know and will offer to move your registration to another training date.