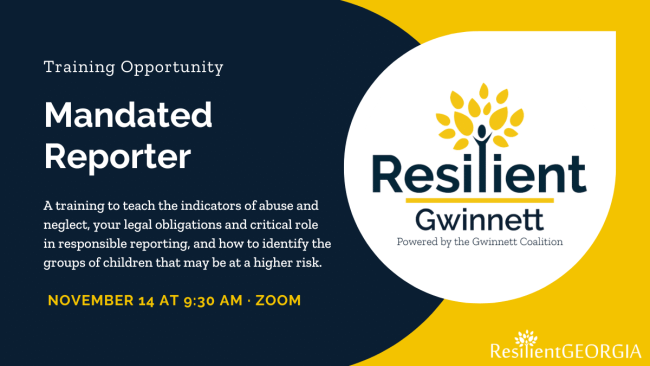 This valuable online training is available for free with easy access at your convenience. Training includes courses that provide instruction on better recognizing the indicators of abuse and neglect, understanding your legal obligations and critical role in responsible reporting, and identifying the groups of children that may be at a higher risk of being abused or neglected. You'll be able to print a certificate and access code as soon as you complete the course and test, and IACET CEUs will be included on each certificate at no charge.
This training requires a minimum of five participants. If there are not at least five people registered, it will be canceled. If you are signed up for a training that is canceled, we will reach out to let you know and will offer to move your registration to another training date.
This training is being held as a part of the Resilient Gwinnett initiative. If you can't attend this event, check out the other events we're offering here or contact us to request a training for your group of five or more.
Registration will close at 5 pm on Friday, November 10, 2023.