Program Coordinator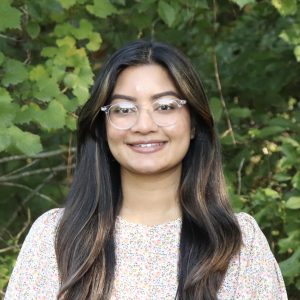 Shayan Chowdhury serves as the Program Coordinator for Substance Abuse Prevention. She joined GUIDE in July 2022. Shayan focuses on underage drinking, tobacco, vaping and marijuana use prevention.
Shayan was born and raised in Gwinnett and received her Bachelor of Science in Public Health from Georgia State University in 2020 and her Master in Public Health degree with a concentration in health promotion and behavior from the University of Georgia in 2022.
Before joining GUIDE, Shayan worked as a contact tracer supervisor for the Georgia Department of Public Health in Athens. During her time in this role, she focused on providing access to COVID-19 vaccines and testing for the underserved populations in the community and the general public. As part of her Master's practicum, she also interned with What to Expect Project, a nonprofit organization focused on maternal and child health. She worked to promote policy change for mothers' rights and educated mothers on bettering their pregnancy and postpartum outcomes.
Through her education and professional experiences, Shayan has worked with and for a diverse population and gained valuable insight into health promotion and prevention. She has always had a strong passion for bettering the lives of young adults and developing strong relationships within her community.
Outside of working at GUIDE, Shayan enjoys spending time with her friends and family, trying new restaurants, traveling to beaches and winding down with her favorite movie or book.
You can contact Shayan by calling 470-410-7723 or emailing shayan@guideinc.org.