Program Coordinator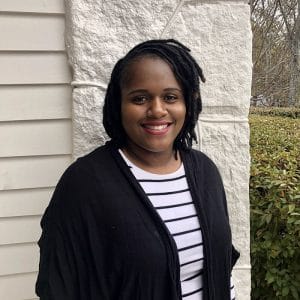 Nykita Howell serves as a Program Coordinator focusing on Underage Drinking Prevention. She joined GUIDE in December of 2019. Nykita works closely with community partners to plan, implement and evaluate community-level change strategies, particularly to reduce and prevent underage drinking through funding including the Alcohol and Substance Abuse Prevention Project (ASAPP) from the Georgia Department of Behavioral Health and Developmental Disabilities and the STOP Act funding through the Gwinnett Coalition for Health and Human Services. Nykita attends local city council meetings, visits alcohol retailers to share resources, meets with key stakeholders, attends community events to distribute prevention materials and works closely with our Youth Advisory Board.
Prior to working for GUIDE, Nykita worked as the Program Coordinator for an afterschool and summer program targeting at-risk youth in Fulton and Clayton counties. She also has experience in clinical and community-based research and has worked as a navigator during the first open enrollment period of the Affordable Care Act.
Nykita is originally from the Midwest. She received her Bachelor of Science in Biology from Clark Atlanta University. After spending some time in the workforce, Nykita earned her Master of Public Health from Mercer University School of Medicine. During this time, Nykita interned on a diabetes study conducted in churches in Macon, GA. Nykita also worked as a research assistant for a multi-state cardiac study in partnership with UMass Medical School.
Intentional about everything that she does, Nykita is passionate about bridging the gap for underserved youth and families across the state. Nykita enjoys volunteering with youth within the foster care system and mentoring young girls. Nykita believes that when communities are nurtured and provided with resources, all members will be successful in life.
Outside of GUIDE, Nykita enjoys gardening in her raised beds, singing, crafting and spending time with her family.
You can contact Nykita by calling 678-377-4133 or emailing nykita@guideinc.org.