Program Coordinator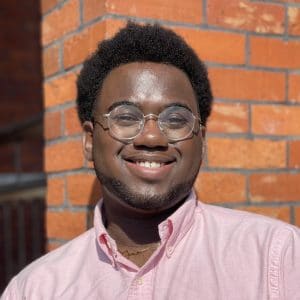 Jamir Wright serves as the Program Coordinator for Substance Abuse Prevention. He joined the GUIDE team in January 2022. As a part of the prevention team, Jamir focuses on underage drinking, tobacco, vaping and marijuana use prevention.
A native of Milledgeville, Georgia, Jamir received his Associate of Arts in General Studies at Georgia Military College (GMC) upon his high school graduation. Jamir later advanced his collegiate journey at the University of West Georgia (UWG) where he obtained his Bachelor of Science in Health & Community Wellness with a minor in Psychology. During his time at West Georgia, he held many leadership positions and pledged a lifetime commitment to Phi Beta Sigma Fraternity, Inc in Spring 2020. Upon graduation in Summer 2020, Jamir continued his educational journey at West Georgia, where he is currently working toward his Master of Education in College Student Affairs, expected May 2021.
Before working for GUIDE, Jamir worked as a Peer Counselor/Facilitator in High Achievers. He has also worked for GUIDE as a contractor facilitating various trainings and has served on staff at the Georgia Teen Institute since 2016. While in graduate school, Jamir worked for the Safety and Security program for university housing, where he served as a supervisor and mentor to about 20 students. Jamir brings a plethora of knowledge around student development, involvement, Georgia Teen Institute and more. He is very excited about the opportunity to use his undergraduate and graduate degree full-time at GUIDE!
Outside of GUIDE, Jamir enjoys being adventurous, spending time with friends and family, going to brunch, traveling and other things that get his adrenaline rushing!
You can contact Jamir by calling 470-410-7723 or emailing jamir@guideinc.org.