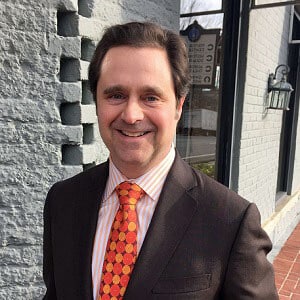 Jim Caponigro is the Vice President of Marketing at Goodwill of North Georgia. He served three years on Goodwill's Board of Directors, where he was the Chair of the Strategic Planning Committee. As Chair, he led a team that developed a five-year strategic approach that produced an increase in business revenue from $65 million to $127 million within the first four years of the strategic plan. Jim joined the Goodwill of North Georgia staff in 2010 to create and leads a marketing and public relations team. Recently, he was named Atlanta's 2013 Corporate Marketer of the Year by The American Marketing Association.
Before joining Goodwill, Jim was a Senior Vice President at JWT, a full-service advertising agency that is part of the largest global advertising network in the world. He led the strategic development for accounts such as FEMA's National Flood Insurance Program, SCANA Energy, U.S. Virgin Islands and Norfolk Southern.
Prior to JWT, Jim ran field operations for the JEEP and Sprint-Nextel brands, leading integrated teams to drive regional business, increasing brand and product consideration, and leveraging promotional activities to increase store traffic.
Jim graduated from Michigan State University and has called Detroit, Memphis, Dallas, Washington, D.C. and Atlanta home during his work life. He lives in Gwinnett County with his wife, Judy.