We are pleased to announce that applications are available to join the GUIDE Youth Advisory Board (YAB)! We are looking for hardworking, motivated young people who care about health and wellness and the community to serve during the 2022-2023 school year. All Gwinnett County high school students are invited to apply!
Applications must be submitted by Friday, May 13, 2022. Learn more and apply now!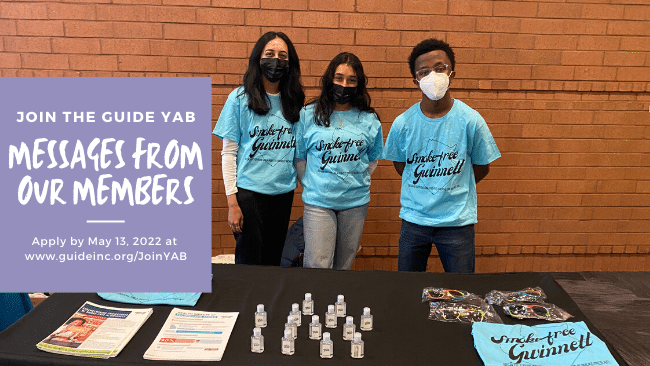 Our YAB participates in leadership trainings, community events and peer prevention campaigns designed to reduce substance use. Being a part of the YAB offers teens opportunities to connect with peers, grow leadership skills and gain volunteer hours. This is an excellent way to be a part of making a difference in Gwinnett while growing as a leader!
Want to learn about more reasons to apply? Hear from some of our YAB members below:
Hi! My name is Temitope (17). I'm a senior (12th) at Central Gwinnett High School and I'm a member of GUIDE Inc.'s Youth Advisory Board. YAB can help amplify the voices of those passionate about the mental health and substance abuse problems in our community's youth. It's what I love most, the opportunity to impact direct change by connecting our minds and experiences to the leaders in our community. YAB helps keep youth mental health needs on the docket of people in power.
My name is Kristine. I am currently an 11th grader at the Gwinnett School of Math Science and Technology. I joined the Youth Advisory Board at the end of my sophomore year and now I'm a part of their prevention projects and a Board member for GUIDE. The thing I love most about the Youth Advisory Board is the people in it. They are all so amazing, and I find it inspiring at every meeting how much they want to help their community become better.
My name is Zaira and I am a part of GUIDE's Youth Advisory Board. I am a fifteen-year-old freshman attending Brookwood High School. I am also a part of some committees including the Fundraising Committee and PAC-G. YAB excites me because it is a safe place where I am allowed to advocate for multiple things I believe in including suicide prevention, prevention of alcohol use, etc. I believe that people should join because of the experience's opportunities. You get to speak on behalf of students to people who have the power to change your community. Overall, I love the Youth Advisory Board and the experiences it's brought me.
My name is Jaron (16), and I love being a part of YAB because of the connections we make. In YAB, I am able to trade ideas and build relationships with like-minded teenagers from all over Gwinnett!
Greetings to all! My name is Bianca, I go by she/her, I'm 17, and I go to Central Gwinnett High school. I am a part of the YAB fundraising committee. I am happy to be a part of the Youth Advisory Board because I love advocating to promote a better future for all!
Hi! My name is Aleesha and I am a 16-year-old sophomore attending the Gwinnett School of Mathematics, Science, and Technology. I serve as the president of the Youth Advisory Board and I absolutely love it. My role allows me to lead meetings and bring energy to the rest of the board. I am a part of the Fundraising Committee, the Legislative Breakfast Committee, the Prevention Projects Committee, and PAC-G. I aspire to do big things with the YAB and I know with a group like ours, which is still growing with more determined and passionate people, we will be able to spark tremendous change! The opportunity that YAB presents to advocate for my community and be a voice for the youth is unparalleled, and it is only one of the benefits of joining YAB. GUIDE's Youth Advisory Board is a great organization for anyone and everyone and it presents a safe space to express opinions and play active roles in the community.