As we dive into 2022, we look forward to seeing the many projects our Youth Action Teams will complete this year! Below, we have provided a timeline of prevention-related cause awareness months, weeks and days to help you plan timely and relevant projects and events. These days are important because they provide dedicated opportunities to spread awareness and show support for causes we care about. Planning projects and events around these dates encourage others who are invested in these causes to participate.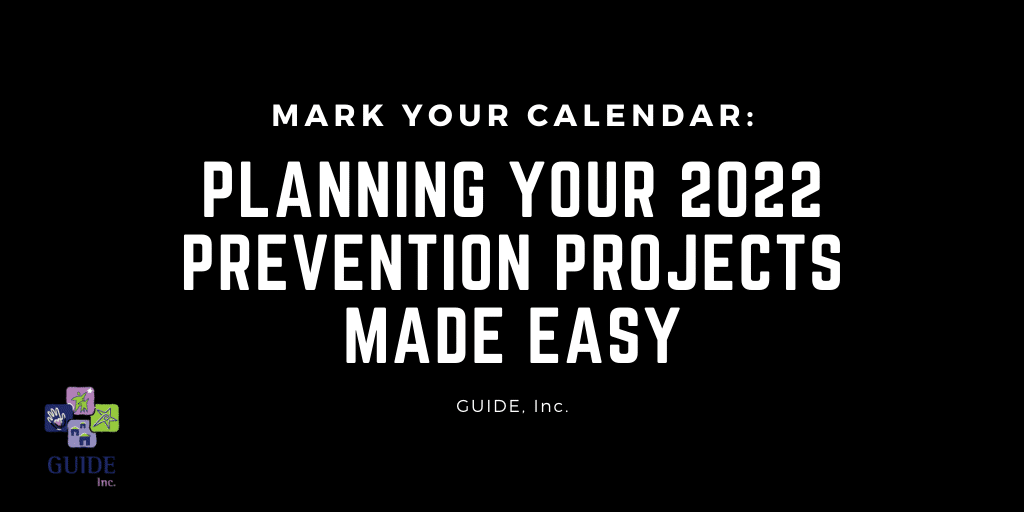 Please know that this is not a comprehensive list but should be viewed as a starting point. Some of these projected dates are based on when they occurred in previous years and will be updated if changes are made as the year progresses.
January 
National Birth Defects Awareness Month
National Mentoring Month
Dry January
Mental Health Day at the Capitol (Jan. 26)
February
American Heart Month
National Cancer Prevention Month
Teen Dating Violence Awareness Month
World Cancer Day (Feb. 4)
National School Counseling Week (Feb. 7-11)
Suicide Prevention Advocacy Day at the Capitol (Feb. 10)
Random Acts of Kindness Week (Feb. 13-19)
Random Acts of Kindness Day (Feb. 17)
Substance Abuse Prevention Advocacy Day at the Capitol (Feb. 24)
March
National Nutrition Month
Self Harm Awareness Month
International Women's Day (March 8)
Patient Safety Awareness Week (March 13-19)
National Sleep Awareness Week (March 13-19)
World Sleep Day (March 18)
Brain Awareness Week (March 14-20)
National Poison Prevention Week (March 20-26)
National Drug and Alcohol Facts Week (March 21-27)
Spring Season
Prom (Varies)
Spring Break (Varies)
April
Alcohol Awareness Month
National Minority Health Month
Oral Cancer Awareness Month
Sexual Assault Awareness and Prevention Month
Stress Awareness Month
Take Down Tobacco/Kick Butts Day (April 1)
National Public Health Week (April 4-10)
World Health Day (April 7)
National Alcohol Screening Day (April 7)
Global Youth Service Days (April 29-May 1)
DEA Take Back Day (TBD)
May 
Mental Health Month
Women's Health Month
National Teen Pregnancy Prevention Month
National Physical Fitness and Sports Month
Children's Mental Health Awareness Week (May 1-7)
National Prevention Week (May 8-14)
National Women's Health Week (May 8-14)
National Alcohol- and Other Drug-Related Birth Defects Awareness Week (TBD)
World No Tobacco Day (May 31)
Summer Season
June
Men's Health Month
National Safety Month
Family Health and Fitness Day (June 11)
Men's Health Week (June 13-19)
July
National Park and Recreation Month
BIPOC Mental Health Awareness Month
International Self-Care Day (July 24)
August
Back-to-School Time (Varies)
World Lung Cancer Day (Aug. 1)
National Night Out (Aug. 2)
International Youth Day (Aug. 12)
National Nonprofit Day (Aug. 17)
International Overdose Awareness Day (Aug. 31)
Fall Season
September
Healthy Aging Month
National Recovery Month
Pain Awareness Month
Baby Safety Month
National Suicide Prevention Week (Sept. 4-10)
World Suicide Prevention Day (Sept. 10)
World Heart Day (Sept. 29)
October
Health Literacy Month
Healthy Lung Month
National Bullying Prevention Month
National Depression and Mental Health Screening Month
Mental Illness Awareness Week (Oct. 2-8)
National Depression Screening Day (Oct. 6)
World Mental Health Day (Oct. 10)
National Health Education Week (Oct. 17-21)
Lights on Afterschool (Oct. 20)
Red Ribbon Week (Oct. 23-31)
DEA Take Back Day (TBD)
Winter Season 
Winter Break & Holiday Celebrations (Varies)
November
Lung Cancer Awareness Month
American Diabetes Month
Prematurity Awareness Month
World Kindness Day (Nov. 13)
Great American Smokeout (Nov. 17)
International Survivors of Suicide Loss Day (Nov. 19)
Giving Tuesday (Nov. 29)
December
National Impaired Driving Prevention Month
If you have suggestions of additional dates to add to this list, please let us know by emailing Michael at michael@guideinc.org.